Babies go through incredible developmental stages during their first 18 months of life, and sensory play plays a crucial role in their growth and exploration, and cognitive development. Sensory play involves engaging a baby's senses – touch, sight, sound, smell, and taste – to help them learn about the world around them. The sooner we expose children to them, the better would be its results. 
0-3 Months:  During the first three months, babies are developing their senses and motor skills. They are most responsive to simple tactile sensations, gentle touches, and soft sounds, like feeling different textures like soft fabrics, smooth surfaces, and plush toys. Get attracted to High-contrast black-and-white visuals.
3-6 Months: Babies start to become more aware of their surroundings and can hold objects for brief moments. They are likely to enjoy exploring items that are safe to mouth, such as soft toys or teethers. Rattles with varying sounds and textures, and soft cloth books can also be interesting. Play mats with different textures and hanging toys encourage babies to reach and grasp, promoting their hand-eye coordination.
6-9 Months: During this period, They might start rolling over, sitting up with support, and even beginning to crawl. The sensory play could involve introducing them to different textured objects, safe-to-eat foods with varying tastes, and toys that make different sounds when touched or shaken. It is time to hand over motor skills development toys.
9-12 Months: At this stage, babies might be pulling themselves up to stand and exploring their environment by cruising along furniture. They are likely to enjoy stacking blocks, playing with simple musical instruments, and exploring containers, Activities like finger painting with safe, edible paints can be messy fun that engages their tactile and visual senses.
12-18 Months: Toddlers in this age range are usually walking, and their curiosity knows no bounds. They might enjoy sensory bins filled with materials like rice, sand, or water, along with various objects for scooping and pouring. Playdough, finger paints, and simple puzzles can continue to engage their tactile and fine motor skills. They might also enjoy exploring different scents, so scented markers or scented playdough could be exciting.
Best Sensory Toys Suitable For Babies Up to 18 Months of Age:
Soft Textured Toys/ Plush toys: Plush toys with various textures, like crinkly fabric, smooth surfaces, and fuzzy patches, encourage tactile exploration. Cuddly companions provide comfort and help develop emotional bonds. Animals, characters, or simple shapes are all popular choices. Perfect for all age groups.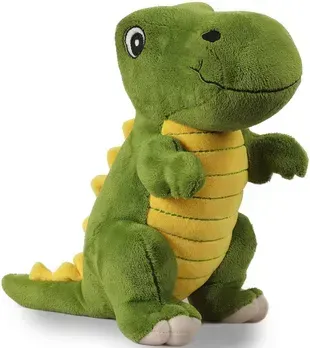 Baby Fidget Rattle Toy: Fidget toys keep little fingers occupied. This newborn toy has a discovery mirror, and crinkle wings, that make a lovely sound when the baby shakes it, can be clipped onto a stroller, car seat, or baby cot. Also allows the baby to hold the toy and play with it. These rattle toys will lead your baby to discover new colors and patterns, and also develop their hand strength through skills like grasping and pulling, and chewing as they are made up of nontoxic material.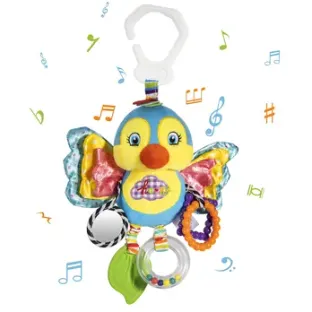 Activity toy/teether for baby: Specially designed to stimulate a child's sensory development and provide relief for babies aged 6-12 and 12-18 months during the teething phase. For toddlers aged 1-3, they also offer pop fidget play, adding more sensory fun. With raised textures and colored rings on both sides, this Montessori toy engages babies' senses through touch and play.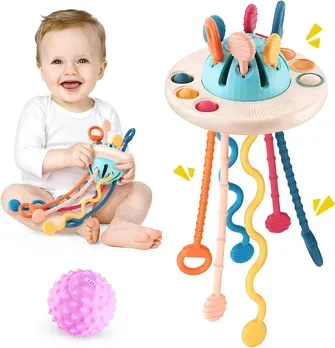 Plush Book/ Cloth Book for Babies: Cloth and plush books usually have different textures, colors, and patterns on their pages, which can help stimulate a baby's senses and encourage sensory development. T

he crinkle pages stimulate sensory exploration of both touch and sound.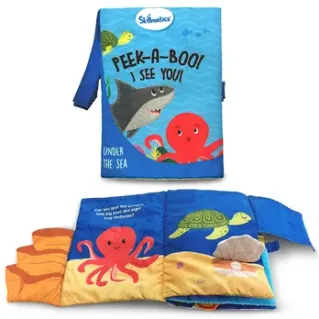 Sensory PlayMat: The Sensory playmat comes with a lot of dangling colorful attachments, useful for tummy time and makes neck and arm muscles stronger. A Baby explores the different colored and textured fabric in the mat that stimulates her all senses and helps in brain development. 


Playmat for babies
Ball pool: A ball pool for babies, also known as a ball pit or ball pool playpen, is a recreational and developmental play area designed for infants and toddlers. Placing babies on their tummies in a ball pool encourages them to lift their heads, strengthening neck and upper body muscles. This is an important exercise to help with crawling and other motor milestones. Babies often explore the balls, scoop them, and sometimes even bury themselves within the pile, fostering imaginative play.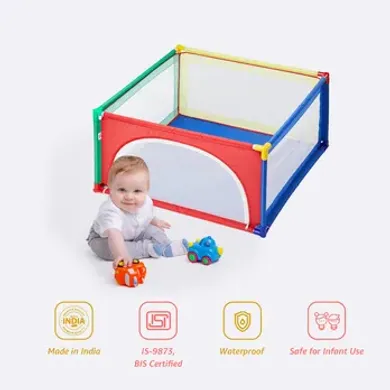 Musical  Books: Books with built-in musical elements provide a multisensory experience that combines reading and music, captivating young minds.
Plush Soft Ball and Soft Rattles: The soft or plush toys ensure that your baby is always safe while playing with the toys. The rattling sound stimulates auditory development. Plush rattles and softballs are lightweight and easy for tiny hands to grasp, hold and play with while developing motor skills. Moreover, you can wash them easily to keep them hygienically safe for your little one.


Soft balls and Soft rattles for Baby
Teethers cum rattle: A teether cum rattle is a versatile baby toy that combines the features of both a teether and a rattle. It typically has a teething-friendly texture for babies to chew on and may also have small internal components that create a rattling sound when the toy is shaken. This combination of features can be engaging and soothing for babies during their teething phase.
Silicone Flipping Board: It is designed for babies from safe and baby-friendly materials, to work as a teether and with a focus on providing sensory exploration and tactile stimulation. Babies often enjoy exploring different textures and shapes as they develop their fine motor skills and sensory awareness. These types of toys can be beneficial for babies' development by engaging their senses, encouraging hand-eye coordination, and providing a safe outlet for sensory exploration.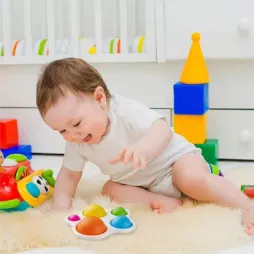 Suction Cup Spinner Toy for Babies: These Spinning suction toys are specifically created to engage a baby's senses, such as touch, sight, and sometimes even sound, in order to promote cognitive and sensory development. It keeps your baby engaged and entertained during outdoor activities, travel, mealtime, and bath time, soothing crying babies with its captivating charm. Moreover, these toys are excellent for training a baby's vision, tactile, and hearing senses, fostering improved hand-eye coordination, concentration, and patience.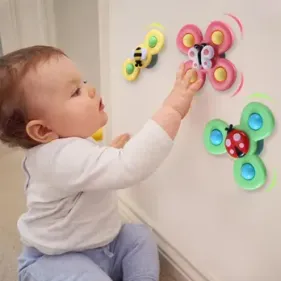 Play Mat Gym is a popular sensory toy designed for babies to engage and stimulate their senses during playtime. It typically consists of a soft, cushioned mat with various colorful and textured elements attached to an overhead arch or frame. The purpose of a Play Mat Gym is to provide a safe and entertaining space for babies to explore and interact with different shapes, colors, textures, and sounds, aiding in their overall development.  They can help babies develop their motor skills, hand-eye coordination, and visual and tactile senses, and even encourage them to explore their environment.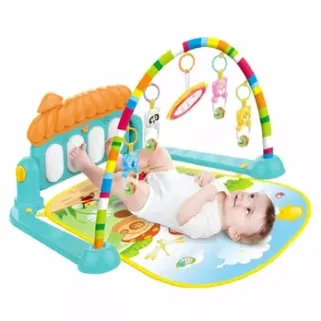 Hand Puppets: Puppets stimulate creativity, language development, and emotional expression through role-playing. Hand puppets can be used by parents or caregivers to interact with the baby. Gently moving the puppets, making them "talk," and using different voices can engage the baby's senses of sight and sound. This interactive play fosters social and emotional development.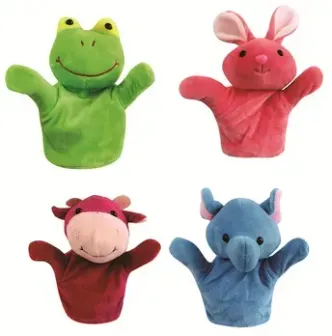 Finger Puppets: Finger puppets are wonderful sensory toys for babies and young children. They engage multiple senses, such as sight, touch, and sometimes sound, while also encouraging imaginative play. 
Babies are naturally curious and use their sense of touch to explore the world. Finger puppets typically have different textures, such as soft fabrics or plush materials. Babies can touch and feel the textures of the puppets, which can help develop their tactile senses.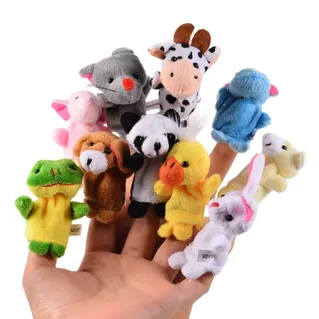 High-Contrast Books/ Flashcards:  Board books with high-contrast patterns and bold, black-and-white images are visually engaging for newborns. High-Contrast Flash Cards are designed to stimulate babies' developing brains and vision in their first year. After the first year, these flashcards can be used as educational toys to play memory games or for vocabulary enrichment in toddlers.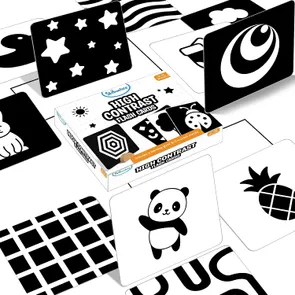 Mirror toys: Baby-safe mirrors allow infants to gaze at their reflections, promoting self-recognition and visual exploration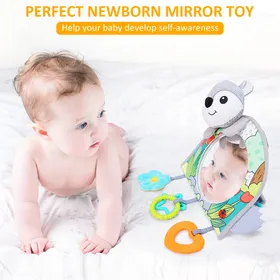 Wrist Rattles:  A wrist rattle stimulates the baby's senses, encourages movements, and provides them with a comfort toy. It also helps to develop the baby's eye-hand coordination and motor skills. Their non-toxic, child-friendly, and super soft material makes them extremely baby safe during teething. It can be strapped on the baby's hand or ankle using our safe velcro.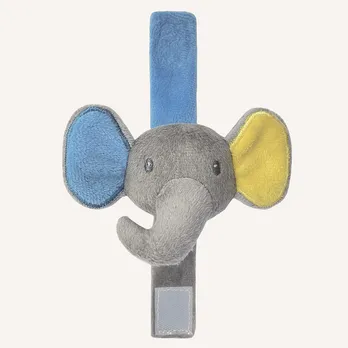 Musical Activity Cube: A musical activity cube for babies is a versatile and engaging toy that combines various sensory experiences, textures, sounds, and activities. It's designed to stimulate your baby's senses and promote their development through interactive play.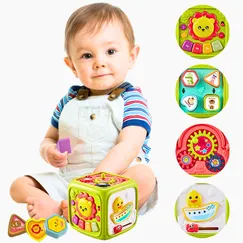 Link Stack N Nest Toy:  Stacking rings, nesting balls, and linking rings with varying textures and sizes encourage hand-eye coordination and fine motor skills.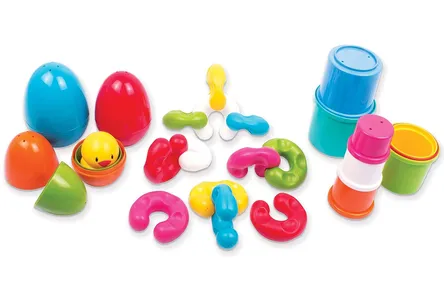 Shape Sorter:  The baby shape sorting toy ​is designed to be educational and interesting. It is colorful and has many cute patterns that attract children's attention, learn, and train while having fun. Babies push blocks into or take out the baby sensory bin through elastic bands one by one involving their senses.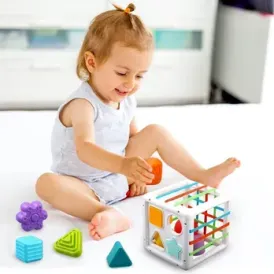 Remember that safety is important during sensory play. Always supervise babies and toddlers during these activities to prevent any potential choking hazards or accidents. Additionally, every child develops at their own pace, so some babies might show more interest in certain sensory experiences than others. The goal of sensory play is to provide a rich and stimulating environment for babies to explore, learn, and develop their senses in a safe and enjoyable manner.
LOVE AND SUPPORT ALWAYS...!
Recommended Reading: Ideal gifts for 2-3 years old: Top 20 Montessori and educational toys
Recommended Reading: Best Sensory and Open-Ended Toys for Children
Recommended Reading: Best Open-ended Toys for Kids