Choosing the perfect gift for a 2-3year-old can be both thrilling and challenging. At this tender age, toddlers are full of wonder, curiosity, and boundless energy and are preparing for their school. The right gift or educational toy can spark their imagination, enhance their development, and provide hours of joy. But choosing one for kids is so challenging, and time-consuming. Here are some ideas suggested by MOMS of Motherso'pedia, that are Montessori inspired and would assist fun-based learning for a preschooler/ toddler. 
Top 20 Gifting Options - Montessori Toys/ Educational Toys for a Kid(2-3years old)
Colour Sorting games: It is ideal for providing an early start on your child's STEM development. It improves concentration, hand-eye coordination, colour cognition, etc, letting kids improve from sorting games.  Educational toys can promote children's logical thinking skills, and fine motor skills and help preschoolers count, sort, and bring together.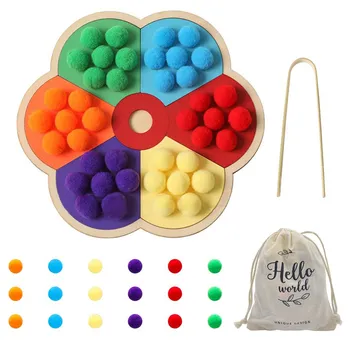 Buy At Amazon: Colour Sorting games
Nuts and Bolts, Interlocking Educational Blocks: Nuts and Bolts" is a type of construction toy designed for toddlers and young children to help them develop fine motor skills, creativity, and problem-solving abilities. These toys typically consist of colorful plastic nuts and bolts that can be easily manipulated and interlocked.
Buy at Amazon: Funskool Giggles - Nuts and Bolts, Interlocking Educational Blocks, Shape & Colours
Spying game: This fun activity is sure to be your Child's favorite play and activity time activity. It can be played in two ways. It helps in vocabulary Building & Language Development and it is a good memory game.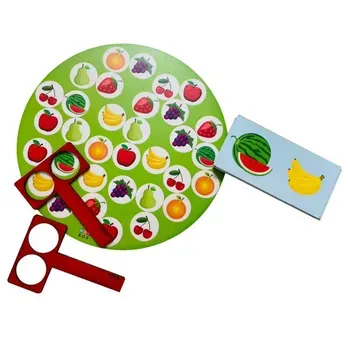 Buy at Amazon: Fruit I-Spy and Domino Activity- Early Development Kit, Education, and Activity Toy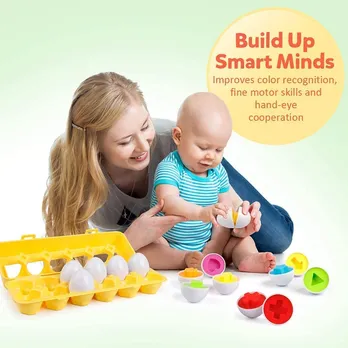 Buy at Amazon: Matching Eggs Educational Sorting Toys
Shape Sorters: These toys challenge toddlers to match shapes with corresponding holes, promoting problem-solving skills and shape recognition.
Buy at Amazon: Toyshine Wooden  Shape Sorter | Stacking Toy Set for Kids
Puzzles: Chunky puzzles with large pieces are excellent for refining fine motor skills, shape recognition, and hand-eye coordination.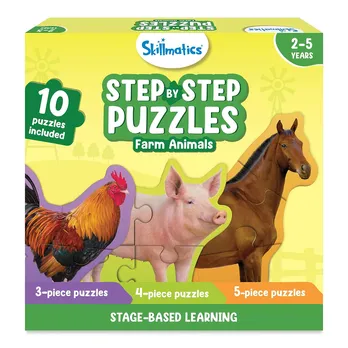 Buy at Amazon: Skillmatics Step by Step Puzzle, Jigsaw Puzzle, Educational Toddler Toy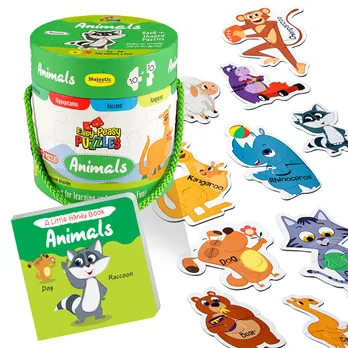 Buy at Amazon: Big Size Animal Puzzle Set with 1 Board Book for Children
Montessori  Toys Box:  These Boxes contain multiple brain development activities inspired by Montessori learning. These toys improve math ability, hand-eye coordination, focus, ability to plan, and object identification. It includes puzzles, a balancing cart, a shopping cart, books, etc apt for the age.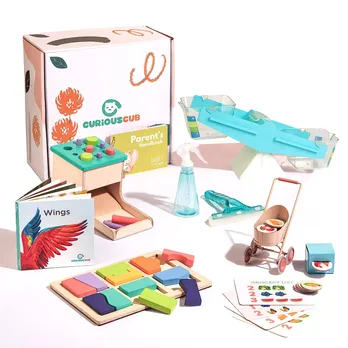 Buy at Amazon: Curious Cub Montessori Learning Wooden Toys Box 
Lacing and Threading Toys: Lacing Montessori toys are educational tools designed to help children develop fine motor skills, hand-eye coordination, and concentration. The process of threading the lace through the holes encourages children to use their fingers and hands in a precise manner, promoting dexterity and control.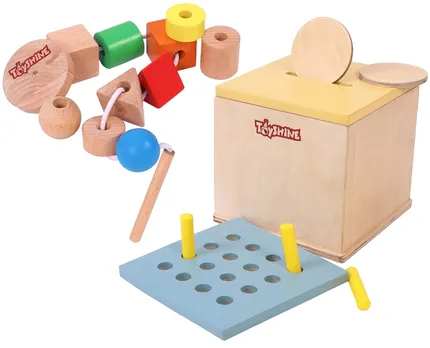 Buy at Amazon: Toyshine  Lacing Beads for Toddlers, Threading toys.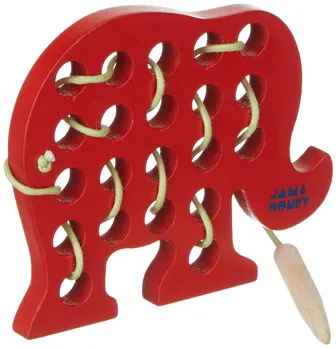 Buy at Amazon: Amazon Brand - Jam & Honey Wooden Sewing Toy - Elephant| Learning Toys 
Nail Hammer set:  Hammering the pegs into the holes requires the use of fine motor skills, which help develop the muscles and coordination needed for activities like writing, drawing, and more. Many hammer and peg games have pegs and holes of different colors. This provides an opportunity for children to practice color recognition as they match the pegs to the correct holes based on color.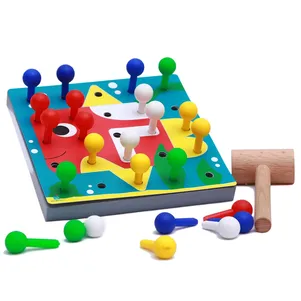 Buy at Amazon: Wonderhood Hammer&Peg Toy for Motor Skill Development
Fun Learning Games / Toys: These educational/Learning Toys provide hours of fun and a great way to develop fine motor skills. This can include lacing, stacking, and sticking magnetic shapes, puzzles, etc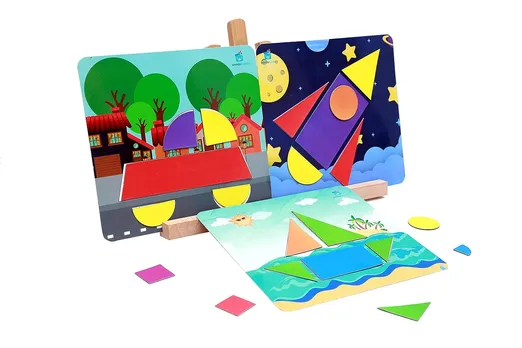 Buy at Amazon: Wonderhood Magnetic Toy Modes of Transport Toy - Fun Learning Toys, Shape sorter, Colors 6 in 1 Puzzle
 Building Sets with Connectors: These sets often involve interlocking pieces, promoting fine motor skills, creativity, and an understanding of spatial relationships.
Buy at Amazon: Building Blocks for Kids
ABACUS For Kids: Introducing an abacus to toddlers can be a great way to help them develop their fine motor skills, hand-eye coordination, and early math concepts in a playful and engaging manner. it is a wonderful Montessori toy to introduce mathematic concepts to toddlers in the play-way method.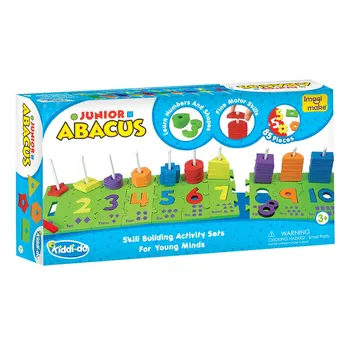 Buy at Amazon: Imagimake Plastic Abacus Skill Building Activity Set
Magnetic Building Tiles: Magnetic building tiles offer a unique twist on construction play by allowing kids to create structures that stick together through magnetic attraction, promoting spatial awareness and creativity.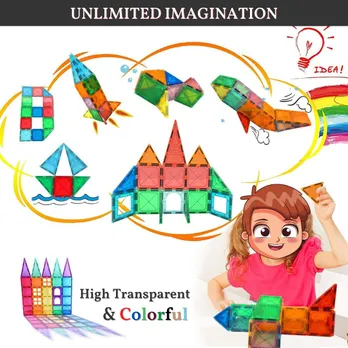 Buy at Amazon: GELTILES Gift Equals Love Magnetic Geltiles, 50 Pieces Set Of Magnetic Building Tiles, 
Educational Sensory Fidget Toy for Kids: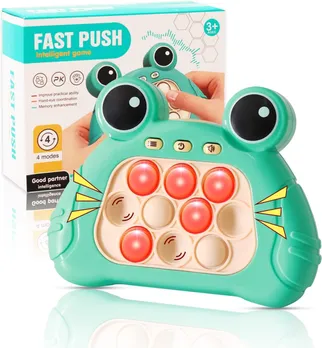 Buy at Amazon: Fidget musical toy for kids
Erasable Doodle Art Book for Kids: Let your child's creativity goes wild without the mess! This drawing book is made of washable material. It's very easy to clean. The erasable design makes the painting board book reusable. Just use the wet tissue to wipe slightly to clean the painting pad easily for repeated use.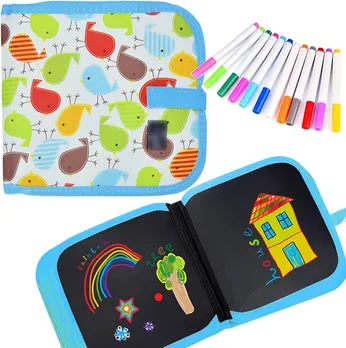 Buy at Amazon: Erasable Doodle Art Book for Kids:
Montessori Busy Books for Kids: A Montessori busy book, also known as a Montessori quiet book, is a hands-on educational tool designed for young children, typically aged 2 to 6 years old. It's a type of interactive book made of fabric or felt pages, each containing different activities and challenges that promote learning, fine motor skills, creativity, and sensory exploration.
Buy at Amazon: Kidology Montessori Quiet Book for Toddlers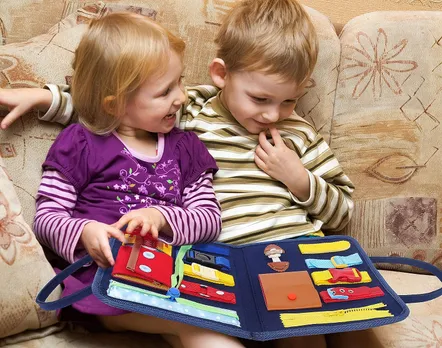 Buy at Amazon: Toddler Busy Board, Montessori Toy for Develop Basic Skills
Sensory Play Kit: Sensory play kits with materials like rice, sand, and textured items provide a hands-on sensory experience that stimulates exploration and creativity.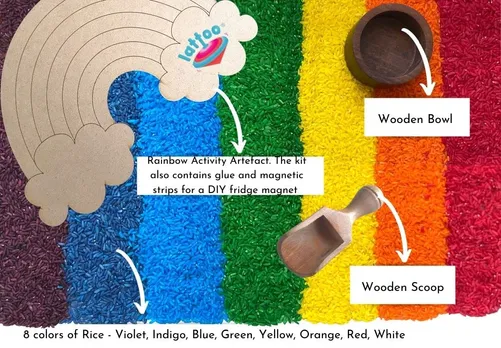 Buy at Amazon: Lattooland Rainbow Rice Sensory Kit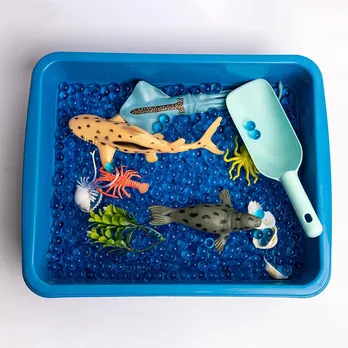 Buy at Amazon: Mini Ocean-Themed Sea Animals Sensory Play for Kids
Shape and Color Recognition Games: Games that involve sorting and matching shapes and colors enhance cognitive development while making learning an enjoyable activity.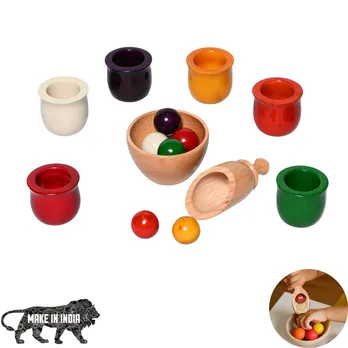 Buy at Amazon: Gift Equals Love Wooden Color Sorting Toy Set of Balls Bowls Waldorf Inspired Montessori Toy for Early Learning & Child Educational Toy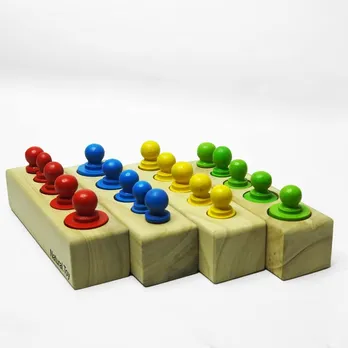 Buy at Amazon: Montessori Colorful Knobbed Cylinders - Peg puzzles
Building Blocks: Classic building blocks encourage creativity, motor skills, and cognitive development. They are versatile and can be used to build anything a child's imagination can conjure.
Buy at Amazon: NESTA TOYS - 115 Pieces of Wooden City Building Blocks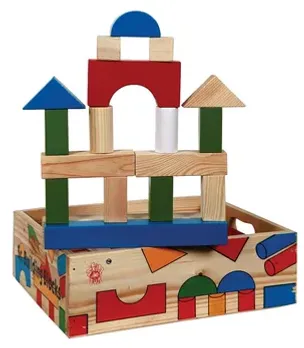 Buy at Amazon: Skillofun Wooden Building Blocks, Multi Color (60 Pieces)
Stacking, Linking, and Nesting Toys: Toys that fit into one another or stack on top of each other improve hand-eye coordination, fine motor skills, and spatial awareness.

Buy at Amazon: Giggles Funskool  Learning Educational Blocks 
Foam Building Blocks: Soft foam building blocks are safe for indoor play, allowing kids to construct and knock down structures without worrying about injuries.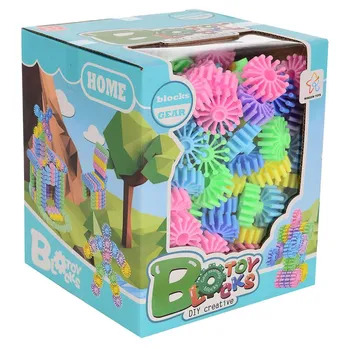 Buy at Amazon: Soft Flexible DIY Basic Building Interlocking Gear Blocks Set 240 Pieces
Gardening Tools and Watering Cans: Gardening tools and watering cans introduce kids to outdoor activities and encourage them to explore nature.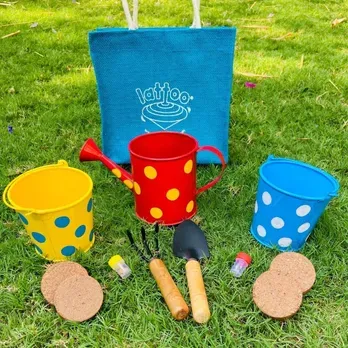 Buy at Amazon: Lattooland Little Gardener'S Kit
Puzzles with Knobs: Puzzles with knobs on the pieces are perfect for tiny hands, aiding in grip and manipulation skills as kids solve the puzzle.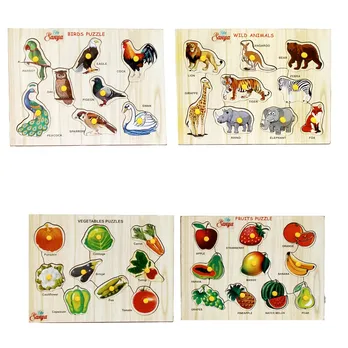 Buy at Amazon: Wooden Puzzles Set of 4 | Animals Puzzle, Birds Puzzle, Veg Puzzle & Fruits Puzzle | Educational Wooden Toys | Learning Toys for Kids
LOVE AND SUPPORT ALWAYS....!!