Welcome to parenthood. Looking for what to shop for your little one, so exciting isn't it? You must be overwhelmed looking at such a cute little thing available in the market But the truth is it is so daunting to buy clothes for your newborn. Many questions arise in parents' minds when shopping. 
How many clothes should I buy?

How many inners/mittens/ caps are required? 

From Where should I buy the baby's clothes? 

What size of clothes should I buy for my newborn? and the list is so long.
Have a quick look at some simple tips for buying baby clothes.
Buy a Limited Number of Clothes –
Babies grow very fast and so it is not advisable to buy too many newborn clothes. In the first few weeks, you will observe that the growth is very fast. Do not forget that when your child will be born you will receive lots of newborn clothes from family members and friends.
So, Newborn clothing essentials include:-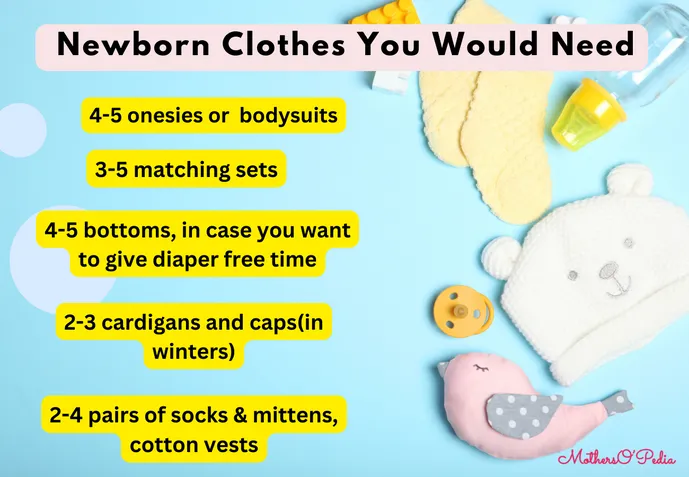 4-7 onesies, 3-4 pants, 4-5 T-shirts, or 4-5 suit sets.
4-5 vests, two pairs of mittens, two caps, socks, and a dozen napkins/ burp clothes.
2 cardigans or jackets (if it's winter)
3 cotton or muslin wraps/ swaddling sheets.
an infant sleeping bag (as an alternative to wraps)
Limited pieces for Newborn size:
There are different sizes available in different brands of clothes for your newborn.  Newborn/preemie sizes are available in the market for just-born babies and some brands have 0-3 months without preemie sizes. Newborn sizes cover babies in the 5-8 pound range while the 0-3 month sizes fit 8-12 pound children.
it's best to buy 0-3 month clothes, as newborn size can be outgrown very quickly. It's important to never dress them in clothes that are much too big, so you can have a few pieces of NB sizes too, but very limited ones. Remember if the baby is premature and has less than 2kg bodyweight, it is advisable to buy  Newborn sized clothes, and later switch to 0-3 months.
---
Babies grow very fast, so it's best to buy the minimum number of clothes in each size.
---
Comfort is the Most Important Key 
Zippers and elastics can cause discomfort to your infant. If you want to buy one with a zip or elastic, look out for the dress that has layers of clothes between the infant and the zip or elastic.
Stretchy jumpsuits that fasten at the front and zips are best, Look for vests and tops with envelope necks, It is advisable that you buy clothes that can be opened from the front. If the dress has to go through the neck of the infant, make sure the neck is wider and soft.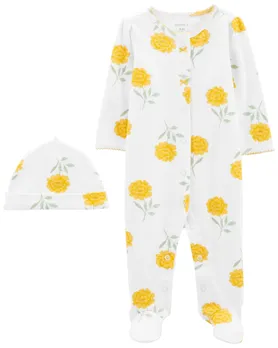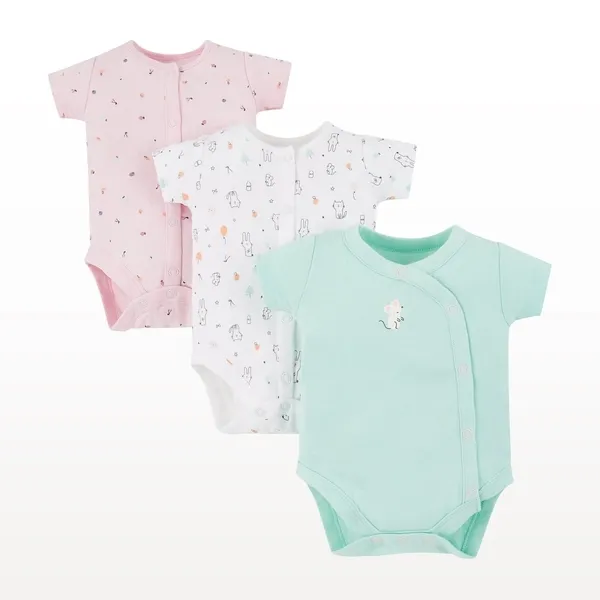 ---
Clothes made from cotton are a good choice. Cotton clothes will keep your baby cooler in hot weather than clothes made from synthetic fibers. Cotton also washes well and is gentle against your baby's sensitive skin.
---
Washing newborn clothes
It's a good idea to wash all baby clothes before your baby wears them for the first time. This can get rid of excess dyes and chemicals, reducing the chance of clothes irritating your baby's skin or causing an allergic reaction. Laundry detergents labeled 'sensitive' or 'gentle' are less likely to irritate your baby's skin. Look for soft, roomy, durable clothing that can hold up through frequent washings. 
---
Clothes with poo, soiled bibs should be pre-soaked in water before washing.  Prefer washing such clothing items with hands, as washing machine will not be able to stubborn stains of milk, their poops or puke.
---
Brands to buy from:
---
Please never buy clothes for your newborn from roadside stalls as they are of cheap quality. Even harmful dyes may be used in their manufacture. you can buy them when your child's skin is mature enough to handle such dyes. but newborn skin is way too delicate. Muslin and soft kinds of cotton are recommended for them.
---
LOVE AND SUPPORT ALWAYS...!!