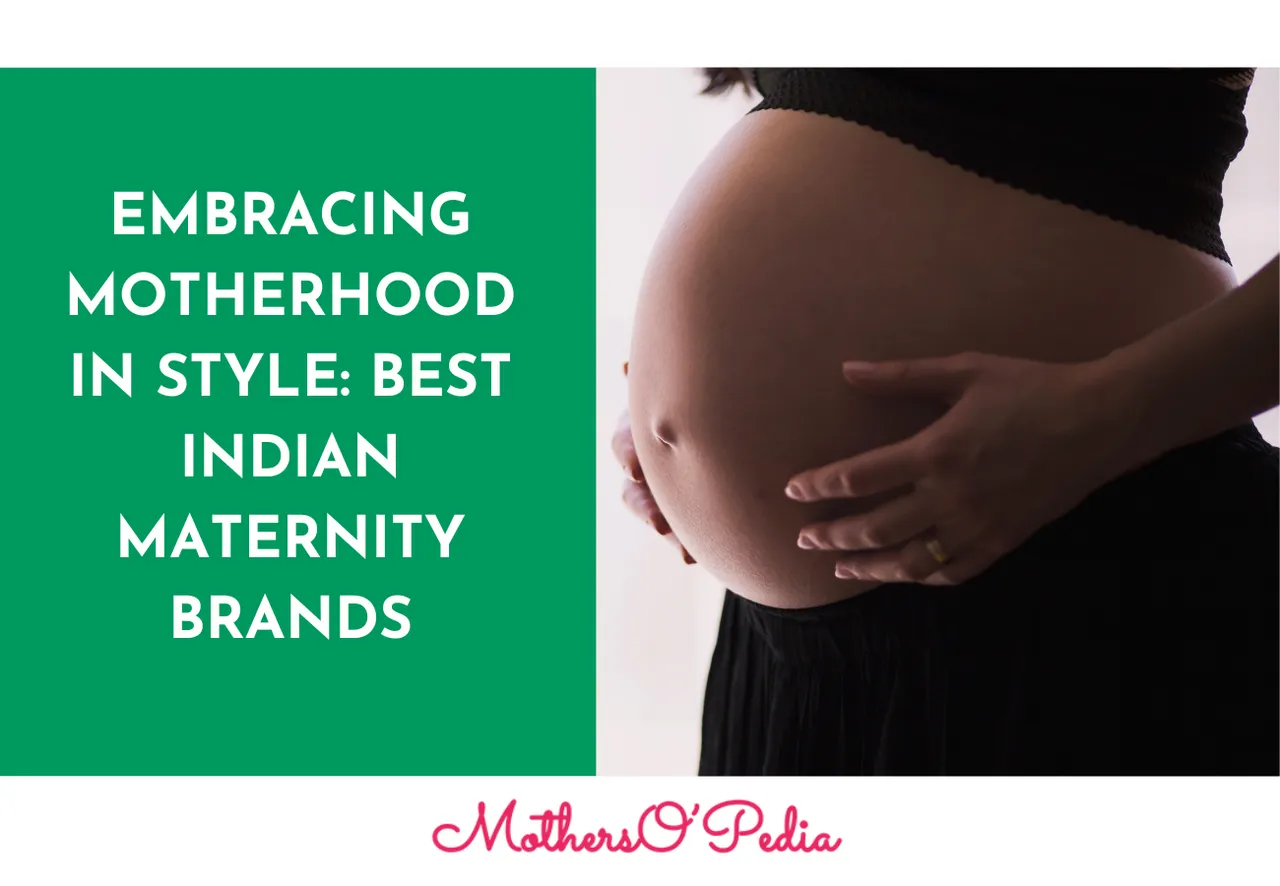 Motherhood is a beautiful journey, and during this special time, every woman deserves to feel comfortable, confident, and stylish. With the increasing demand for fashionable and functional maternity wear, several Indian brands have stepped up to cater to the needs of expecting mothers. These maternity brands offer a wide range of clothing that not only embraces the changing body but also celebrates the joy of motherhood. 
 The Best Indian Maternity Brands for Expecting and Nursing Mothers

Mamma's Maternity is a popular Indian maternity brand known for its stylish and comfortable clothing. They offer a wide range of maternity wear, including dresses, tops, kurtas, nursing tops, and loungewear. Mamma's maternity collection is designed to provide a perfect fit, adapt to the growing belly, and offer ease of nursing postpartum. It can be used for pre as well as post-pregnancy periods.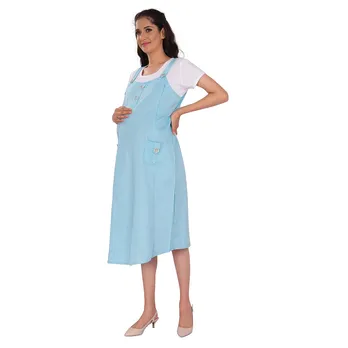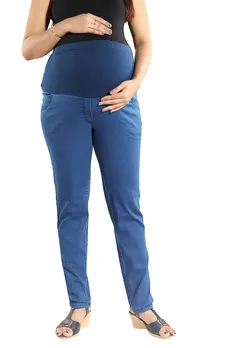 Morph Maternity
Morph Maternity is a trusted name in the Indian maternity wear market.  Their innerwear clothing, for both phases, pregnancy and postpartum phase are designed to provide maximum support and flexibility during pregnancy, making it ideal for daily wear.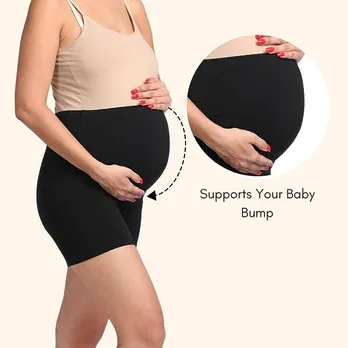 Ed-a-mamma Maternity: It empowers women to embrace their journey to motherhood with confidence and style, celebrating the beauty of pregnancy through its fashionable and functional maternity wear collection.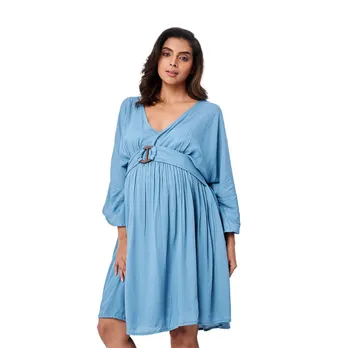 MomToBe
MomToBe is a popular maternity brand known for its trendy and chic designs. Their collection offers a mix of ethnic and contemporary wear, catering to various occasions and preferences. From maternity gowns to nursing tops, MomToBe has something for every mom-to-be who wants to look and feel her best during pregnancy.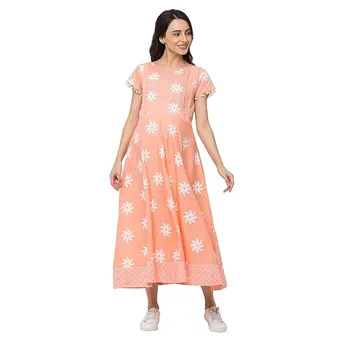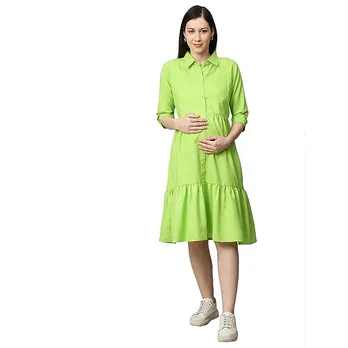 Blissclub, a renowned women's fashion brand, has also ventured into maternity wear with The Ultimate MamaMove Leggings. The super high-waist over-the-belly maternity leggings provide high coverage for your baby bump. The expandable waistband accommodates your baby bump throughout your pregnancy so that you don't feel restricted.
The Mom Store" is a leading mama brand that caters to the diverse needs of expecting and new mothers. With a mission to make motherhood stylish and comfortable, this brand offers a wide range of maternity wear and postpartum essentials. From chic dresses and tops to nursing bras and loungewear, "The Mom Store" understands the importance of quality, fit, and functionality during this precious phase of life.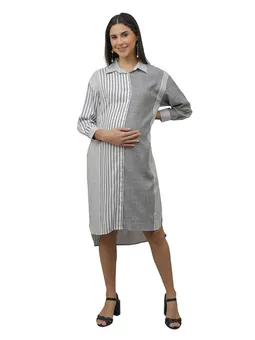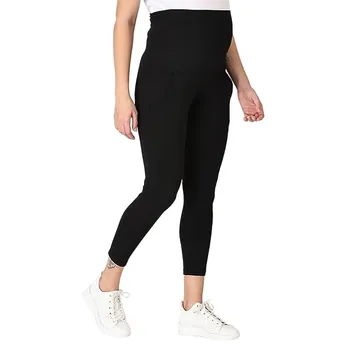 This Indian brand has been there in the industry for so long, but they have started with their maternity line recently. MYLO Essential provides a variety of stylish, trendy maternity dresses, comfiest nursing bras, bottoms, and maternity leggings for both day and night, for outdoors and indoors, for your office and home both.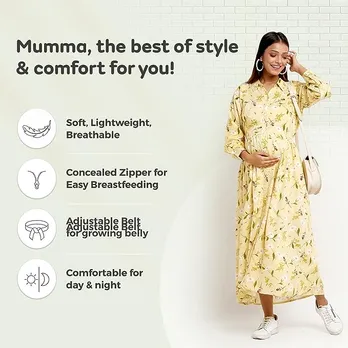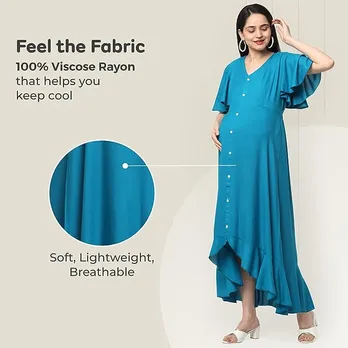 Zeyo  commits to providing products that are not only stylish but also functional. our pieces are designed to fit seamlessly into the lifestyle of an expectant and new mother. Their products are made using the finest quality fabrics, ensuring that they feel amazing against the skin.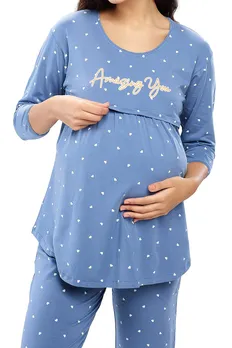 Aujjessa Brand:  This brand means "Ojas" in Sanskrit which means a strong power within. Their Brand slogan is "Stitching Dreams into Reality". They create pregnant-friendly Indian wear.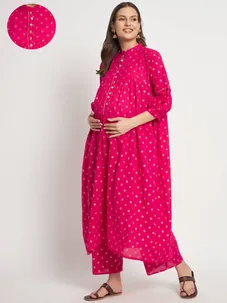 With the rise in demand for fashionable and functional maternity wear, Indian maternity brands have emerged as a boon for expectant mothers. These brands not only provide comfortable and supportive clothing but also celebrate the beauty of motherhood through trendy designs. From everyday wear to special occasions, the best Indian maternity brands offer a wide variety of options to suit every style and preference. Embrace your journey to motherhood in style with these fabulous brands that prioritize your comfort and fashion throughout your pregnancy.
 LOVE AND SUPPORT ALWAYS...!!
Disclosure: This website contains affiliate links, It wont cost you anything but will help us run our website and allows us to continue providing valuable content. Thank you for your support!