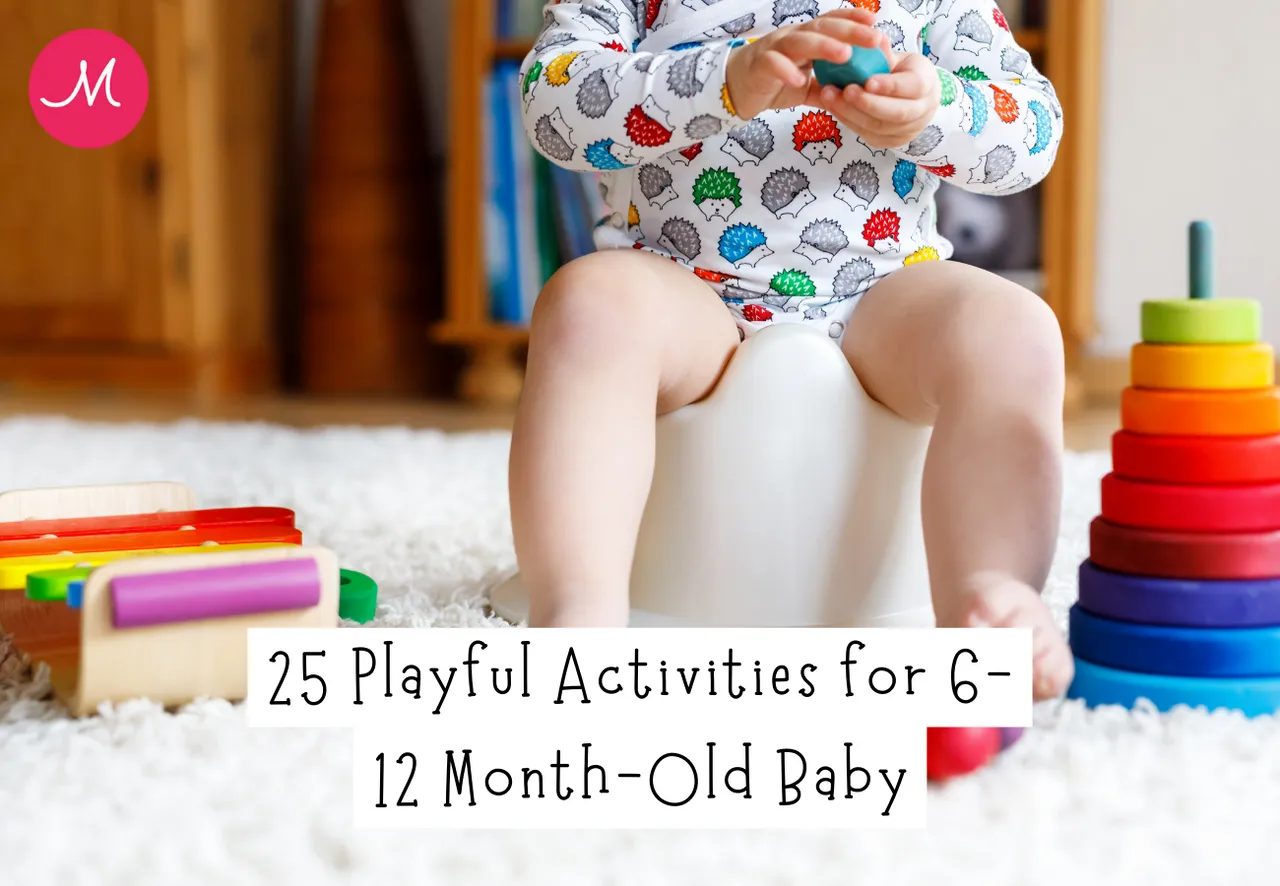 Playing with your 6-month-old baby is a wonderful way to promote their development and strengthen your bond. At this age, babies are becoming more aware of their surroundings and are starting to develop basic motor skills. As your baby grows from 6 to 12 months old, they become more active and curious. Here are some activities tailored for this age range:
25 Activities for 6-12 Months To Nurture Their Growth
Exploration Play: Provide a safe space with interesting objects for your baby to explore. This could include soft blocks, rattles, and toys with different textures. Personally, I prefer giving children a big basket of toys to explore, including their rattles, soft cloth napkins, plush toys, and flashcards.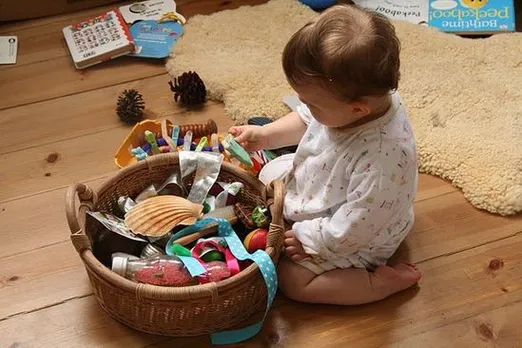 Crawling Tunnels: If your baby is starting to crawl, set up a soft tunnel for them to crawl through. This can be a fun and stimulating activity. If you don't want to spend money on buying a crawling tunnel, you can take a few chairs, and cover them with a blanket or bedsheet to create a canopy. Your little one will be filled with joy crawling under and through the canopy.
Knock the Blocks: Soft building blocks can be stacked, knocked down, and explored. This helps with their fine motor skills and hand-eye coordination. Babies usually start stacking 1 or 2 blocks by 9 months of age. If they don't, don't worry, they will learn at their own pace. You can stack the tower and encourage them to knock it down – your room will be filled with their laughter and excitement of knocking the tower down.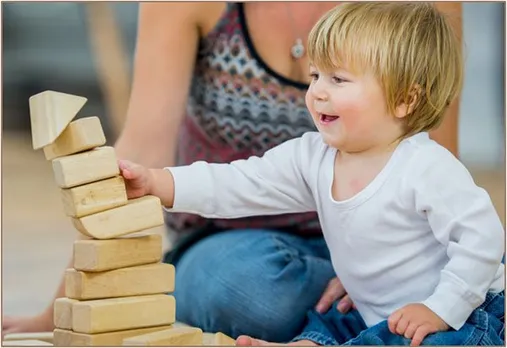 Messy time with Food: Allow your baby to explore different food textures with their hands (under supervision, of course). You can use items like cooked pasta, soft fruits, or mashed vegetables. I have done this a lot and still do it with my child.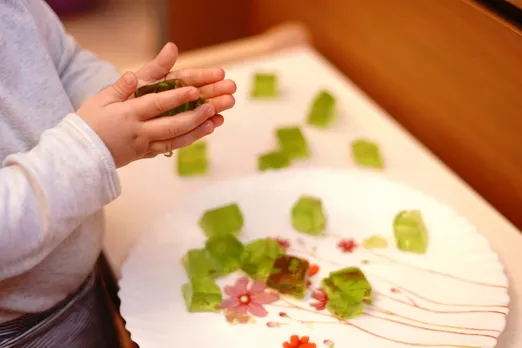 Music Time: Introduce your baby to different types of music. You can use simple instruments like shakers or a drum to make music together. You can even create your own drum set at home using a few utensils and sticks. It's a time for you to relive your childhood with your child.
Teach Your Baby to Walk: If your baby is starting to stand and walk with support, a push toy can provide stability and encourage mobility. You can use a chair or stool instead of buying push toys to aid in learning to walk. This is a great activity for infants, giving them the opportunity to learn and explore more.
Outdoor Play: If the weather allows, spending time outside is beneficial. You can take short strolls in a stroller, sit on a blanket, or let them play in a baby-safe outdoor area. Take swings with your little one and let them crawl on the grass. However, be very careful that they don't put anything in their mouths. Let your baby touch and feel natural materials like grass, leaves, or pebbles.
Kitchen Exploration Activity: Introduce your little one to the wonders of the kitchen! Dough utensils, vegetables, fruits,  spoons, and bowls can be incredibly fascinating for kids at this age. Set up a secure play area with non-toxic kitchen tools like rolling pins, measuring spoons, and mixing bowls. Let them feel the textures, bang utensils together, and explore the shapes and sizes. This activity engages their senses, supports fine motor skills, and introduces them to the sensory delights of cooking.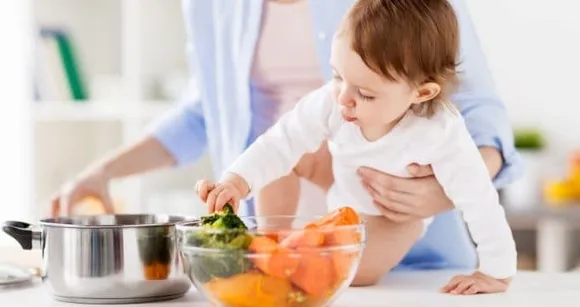 Imitate Animal Sounds: Make animal noises and encourage your baby to mimic them. This can be a fun and engaging way to teach sounds. You won't believe how quickly they'll start imitating animal sounds. Use "Old MacDonald  had a farm rhyme" with babies to practice animal sounds.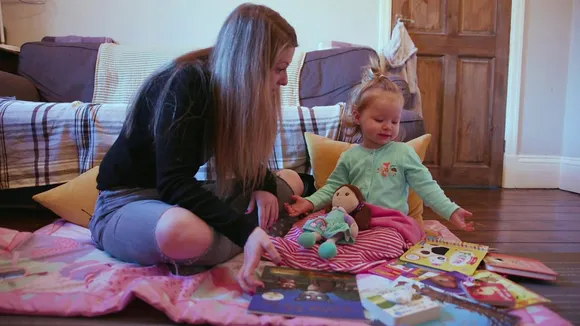 Water Play: Everybody loves water, and infants are no exception. In the summer, you can fill the tub or basin and give your child the liberty and freedom to enjoy it however they want. Provide them with spoons, cups, toys, and balls to play with. This activity encourages sensory exploration and hand-eye coordination.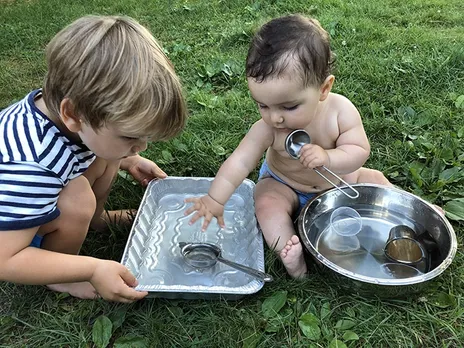 Reading Interactive Books: Choose interactive books with flaps, textures, and pop-ups. This engages their senses and helps with language development. Showing flashcards is also a great option. Choose big-size flashcards with clear pictures and try to build up a story with each flashcard.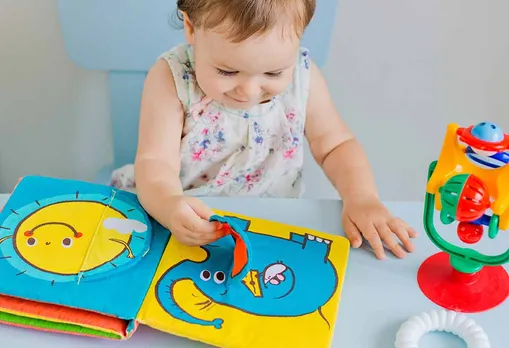 Ball Play: Soft, lightweight balls are great for rolling, tossing, and exploring different textures. Don't underestimate the power of softballs for little ones. Younger ones love balls. You can even spend a few bucks on sensory balls to stimulate tactile play. Introduce balls with different textures and sizes. Encourage them to roll the ball back and forth with you.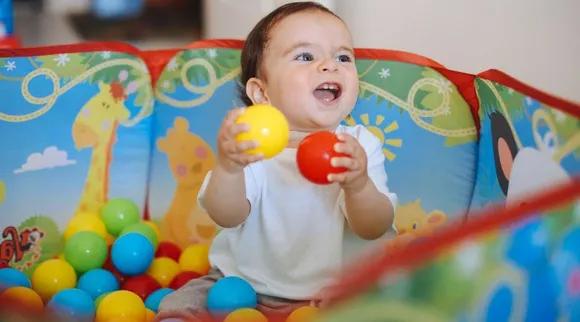 Mirror Play: Let your baby spend time in front of a baby-safe mirror. They may enjoy looking at their reflection and making faces. This activity helps with visual exploration and self-recognition.
Imitation time: Show your baby simple movements like clapping your hands, waving, or gently tapping a surface. Encourage them to imitate you. Or you can pretend to call some other person and teach them how we call others and talk. This promotes imitation skills and hand-eye coordination.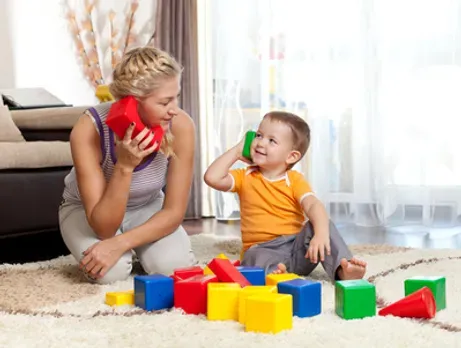 Nursery Rhyme Sing-along: Sing nursery rhymes or lullabies to your baby. You can also use hand movements to accompany the songs. This activity supports language development and rhythmic awareness. Use their name in the rhymes for a personal touch. Incorporate gentle hand movements to engage them. Use rhymes like "If you're happy and you know it" for added engagement.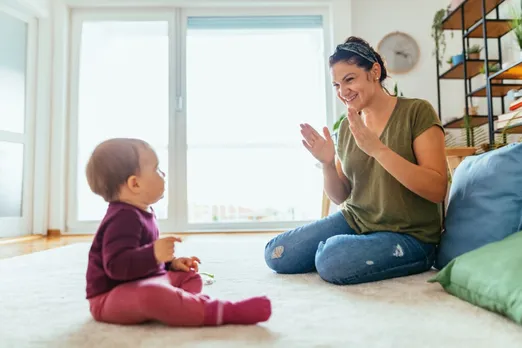 Set up Puppet Show for your baby: Use old socks to create simple puppets if you don't want to buy them. Put them on your hands and use funny voices to entertain your baby. Your child loves puppets. Setting up a puppet show with hand puppets, sock puppets, or finger puppets encourages imaginative play and language development.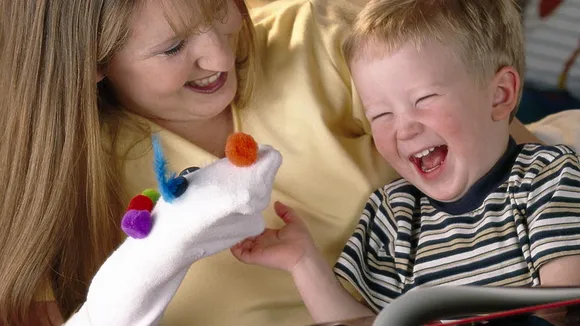 Play Point To The Body Part Game:  Talk to them about the different features like eyes, nose, and mouth. Encourage your baby to point or touch the parts you say, and do with them. Sing rhymes like "chubby cheeks, dimple chin" or "Ten Little Fingers" to enhance sensory exploration and language development.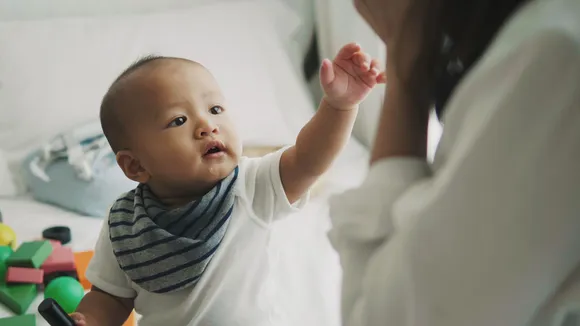 Bubble Wrap Fun: Lay a piece of bubble wrap on the floor and let your baby stomp,or crawl on it. The sound and sensation can be intriguing. This activity promotes gross motor skills and sensory exploration.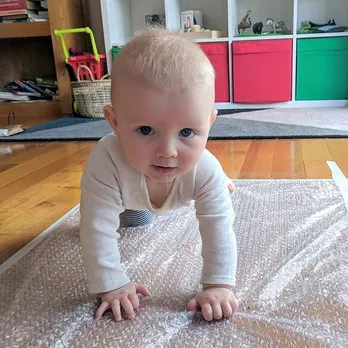 Play with Scarves: Use soft, lightweight scarves and gently wave them in the air. Your baby will enjoy watching the movement. This activity enhances visual tracking and sensory exploration. You can use any other cloth lying at your home to make a parachute, canopy, tent or play peek-a-boo with your little one. Once they start walking, tie it on their neck as their cloak and cape to feel like a superhero or superwoman.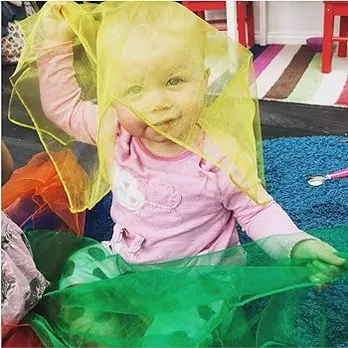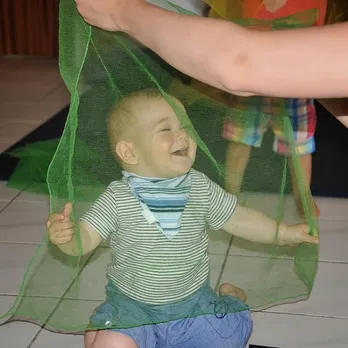 Play Hide and Seek with Little One: Hide yourself under a blanket or behind the curtains fo your walking infant to find you. If your child doesn't walk or crawl, try hiding their favourite toy under the cloth, or blanket fo them to find. This game promotes object permanence and peek-a-boo play, which helps with cognitive development.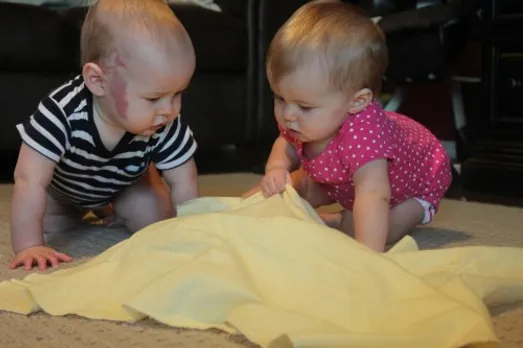 Provide your baby with a "Pop It" Toys:

Little ones love popping toys. It improves their eye-hand coordination and develops fine motor skills. These are also great for stimulating cognition. You have to closely supervise them while playing with pop-its. They will put everything in their mouth, and the silicone material of pop-its can harm them. Be careful and let them enjoy!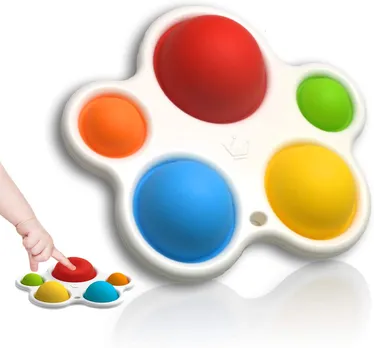 Sorting of Things: Provide your little one with different objects of different shapes or colours to separate them. You can use spoons and forks to start with your little one. This activity promotes cognitive development and fine motor skills.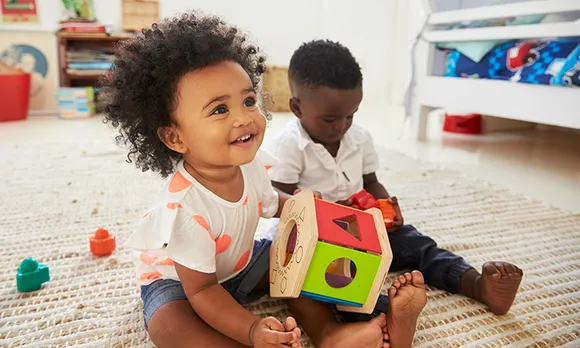 Memory Game: Perform this activity as early as you can. Take a ball or pom-pom, and hide it under a cup. Lift the cup, and ask your little one, "Where is your ball?" This game enhances memory and object permanence.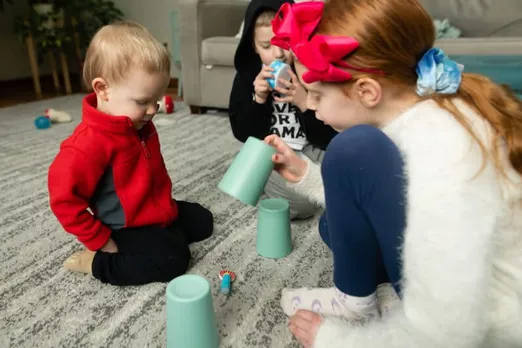 Pretend Plays: Now your child understands a lot. Use stuffed toys to play with your little one. Feed the baby, comb the baby, and let the baby sleep. This activity encourages imaginative play and language development.

Incorporate their favourite stuffed animals or dolls. Use gentle touches and nurturing words as you play together.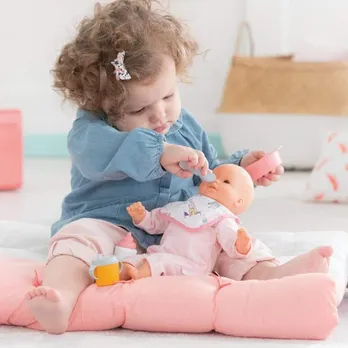 Tent House: A tent house is a versatile prop that anybody can use at any age and in any style. It is an open-ended toy with no age limit. This activity encourages imaginative play and gross motor skills.

Make it their cosy space with their favourite blankets and toys. Spend quality time playing inside together.
These activities support a wide range of developmental skills in infants aged 6-12 months, including sensory exploration, fine and gross motor skills, cognitive development, language development, and imaginative play.
LOVE AND SUPPORT ALWAYS...!!