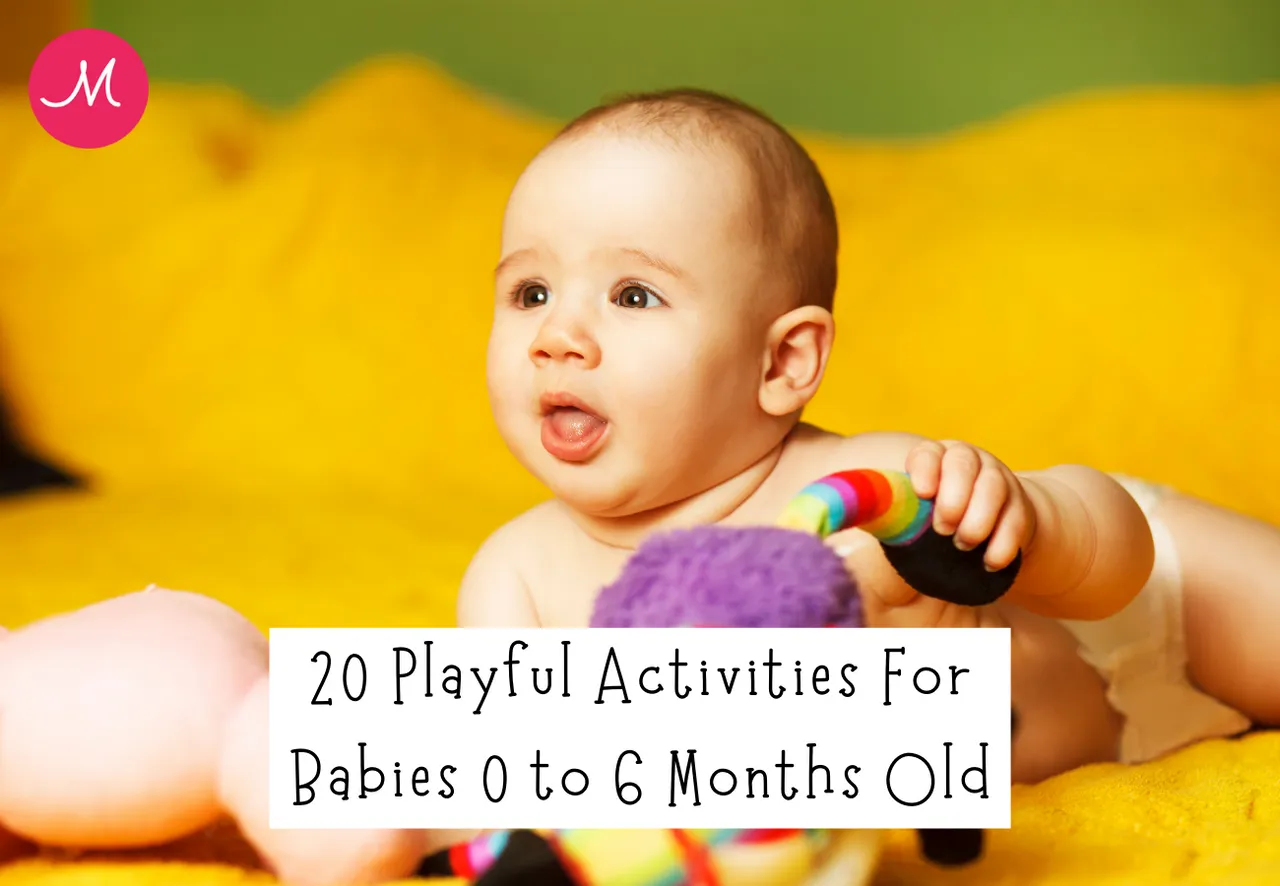 Play is a crucial part of our baby's development. It helps them learn about the world around them, develop their physical abilities, and build important cognitive and social skills.
But we often end up replacing their actual playtime with toys and screens. That's not true. Babies don't need screens or fancy toys, they need humans to engage with and learn from.
As parents, we sometimes fail to understand what activities we can do with our little ones. It doesn't have to be fancy or extensive. It can be as simple as playing peek-a-boo or singing to them. 
Learning happens when your baby is allowed to hold, inspect, and explore an object. 
20 Playful Activities For Babies 0 to 6 Months Old for Their Development
Showing High-Contrast Flashcards:  Newborns have limited vision at birth, and they are most attracted to high-contrast patterns. These toys provide strong visual stimuli that are easier for babies to see and focus on. It develops a baby's visual tracking skills and encourages eye movement and coordination.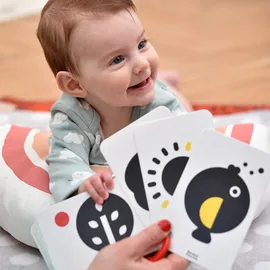 High-contrast toys and flashcards provide a stimulating and engaging sensory experience for infants, supporting their early visual and cognitive development. 
Fun time with Sensory Bags:  Babies love sensory play, create sensory bags by filling a sealable plastic bag with a soft substance like hair gel or coloured water with any other objects. This provides tactile stimulation to infants without the mess. Sensory bags can introduce infants to sensations they might not encounter in their everyday environment. This activity gives them enriching experience for their sensory development.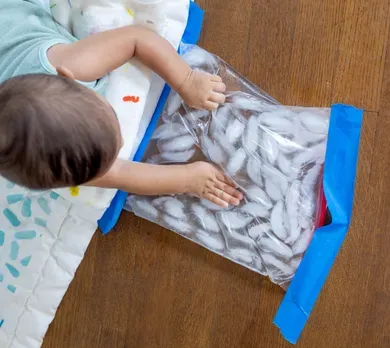 Read books: Opt for board books with large, high-contrast pictures. Babies at this age are particularly drawn to bold patterns and primary colors .Look for touch-and-feel books with different textures. This allows your baby to engage their sense of touch while exploring the book. . Infants are captivated by soothing voices. Use a gentle, melodic tone to read aloud, and don't be afraid to use expressive facial expressions.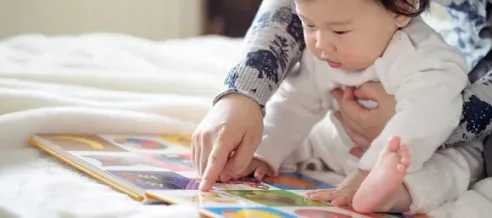 Play with Soft Blocks: Infants can practice grasping, holding, and manipulating soft blocks. This helps develop their fine motor skills and hand-eye coordination. As babies grow, they can start to stack soft blocks, introducing early concepts of balance and construction. Prefer blocks with h

igh contrasting colors that promotes visual, sensory discovery.

Such soft blocks are perfect for stacking, throwing, and learning. 
Engage with your baby while they play, describing the colors, textures, and actions they're taking. This supports language development.
Sensory colorful scarves : Sensory scarves offer various playful options: waving, twirling, and exploring the fabric. They even add a fun twist to Peekaboo or hiding games! They're not just entertaining, but also promote vital skills like hand-eye coordination, tracking, and concentration. These scarves are an excellent tool for joyful learning. Playing with scarves is a simple way to have fun with your little one. It's also a great way to enhance their development. From building positive sensory-motor skills by feeling the silky texture of a scarf to developing fine motor skills while playing catch, 
Make the best use of ribbons : Use soft, satin ribbons with different textures. Allow your baby to touch and feel the ribbons, promoting tactile stimulation and sensory development. Ribbons with contrasting colors or patterns can attract and hold your baby's attention. Encourage your baby to reach out and grasp the ribbons. This helps develop their hand-eye coordination and fine motor skills an develops their visual capacities.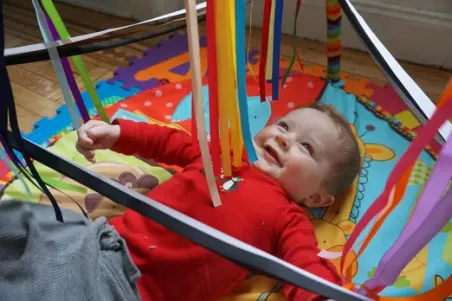 Use ribbons of an appropriate length to prevent any risk of entanglement or choking. Shorter lengths are generally safer for young infants.
Balloon Play: For younger infants, less than 3 months, tying balloons to the hands and feet is a great baby activity. It is

great way engage them and strengthen their  gross motor skills with every kick and arm movements. For kids 4 months older, Bl

ow up a balloon and gently toss it in the air. This can be visually stimulating and fun for babies to watch and develops their visual tracking skills.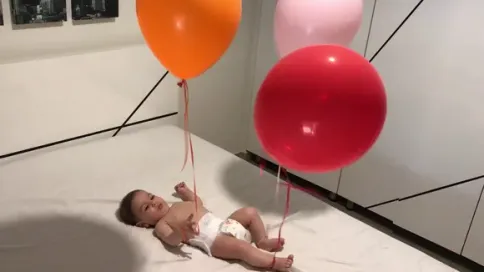 Make sure you grab black and white balloons because of infants ability to see high contrast images better. Also be sure to grab some helium to keep the balloons up high!
Tummy Time with Toys: Begin with short sessions of tummy time, around 2-3 minutes a few times a day, and gradually increase the duration as your baby gets more comfortable.

Use a soft, clean surface like a play mat, blanket, or a tummy time pillow.

Place toys within reach during tummy time to encourage reaching and grasping movements, which strengthen neck and upper body muscles.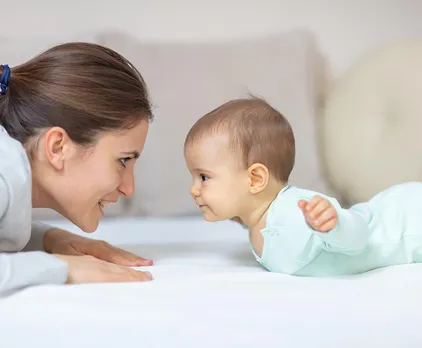 Get down on their level, smile, and talk to them. This interaction is crucial for bonding and development. Tummy time should be on your list of activities every day, not just because it strengthens the baby's body muscles, but because it creates a strong bond between parent and baby.
Give Mirror time to babies: Babies are often fascinated by their own reflections. Mirrors provide visual feedback, allowing infants to focus on and track their own movements and expressions. This helps develop their visual tracking skills.  Mirror time can help infants begin to recognize themselves. It can evoke smiles, giggles, and other social responses, promoting emotional well-being.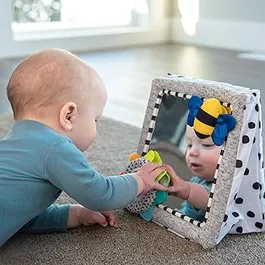 Talk to your baby while they look at themselves in the mirror. Use a playful and engaging tone to create a positive experience.
Engage your infant in Sensory Play: Fill a basket with safe objects of different textures, shapes, and sizes. Let your baby explore them with their hands and mouth. Allow your baby to touch and explore. Always supervise sensory play to ensure safety. Even simple materials can pose risks if left unattended.
Provide Soft Books with Different Textures: Cloth or fabric books with different textures can provide tactile stimulation and encourage exploration. Introduce different textures like soft fabrics, smooth surfaces, and slightly rough textures.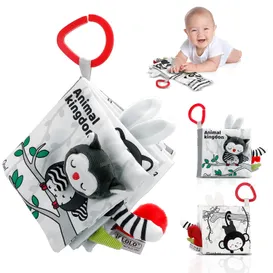 Buy at Amazon: Soft Books with Different Textures 
Peek-a-Boo:

Peek-a-boo" is a classic and the simplest game played with babies. It's a simple yet valuable activity for their development. It can help babies practice focusing their attention and following objects or people with their eyes. This game helps with object permanence and social interaction.

Play peek-a-boo using a soft cloth or your hands.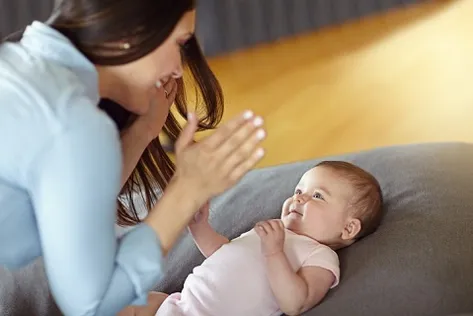 It encourages social interaction and bonding between the baby and the person playing the game. This activity brings out joy, and laughter for both caregivers and infants.
Singing Rhymes and Dancing with a baby:

Singing rhymes, dancing, and playing soft music with your baby are delightful activities that offer significant developmental benefits. These interactions with baby, stimulates their auditory senses, helps in language development. Additionally, music encourages creativity and self-expression, even in early infancy.

Singing to or with your infant can be a bonding experience.
Clap your hands, stomp your feet and click your tongue.Sing songs to your baby.  Look at your baby while you sing so your baby can see your mouth make the words.Hold your baby and dance to music.
Bubbles: Blowing bubbles and letting your baby watch them float can be a delightful visual experience. Bubbles are a good way to help your baby develop visual tracking and helping to develop motor skills and eye-hand coordination.
Simply blow the bubbles and encourage your little one to follow them with their eyes. Make sure the solution is safe for babies. 
Water Play and Bath play: Play is a fundamental mode of learning for children, and bath time play holds special appeal. Water offer a distinct playtime opportunity not found during other parts of the day. For infants who cannot sit, they can play with water laying on their tummy, making their tummy time more of tactile stimulation which can be quite pleasurable.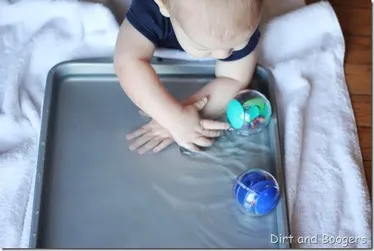 Older infants who can sit up can enjoy supervised water play in a shallow tub with cups and containers, providing an enjoyable and sensory-rich experience. Use bath toys to engage your baby during their bath. Provide cups for pouring water or floating toys for exploration.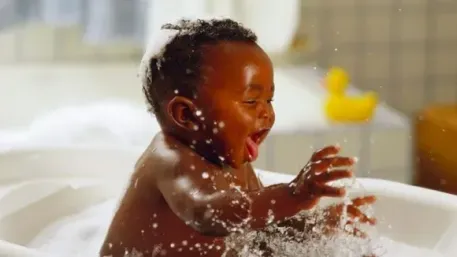 Playtime in Nature: If the weather allows, taking your baby on a nature walk can introduce them to different sights, sounds, and textures.

Take a stroll or enjoying a feeding session on a park bench, or plan a water play in warm afternoons. It provides a refreshing dose of fresh air and essential vitamin D to you and your baby. Whenever you go out with your baby, talk to them, show them different things, keep talking about their surrounding to help developing their brain.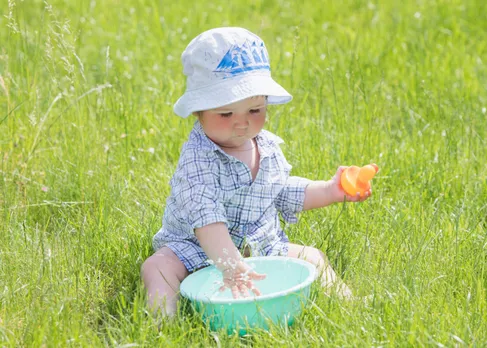 Make sure you use insect or mosquito repellent and Keep baby out of direct sunlight.
Soft Ball Play:  

oft ball play can be a fun activity to do together with a caregiver, encouraging interaction and bonding.

Playing with soft balls allows infants to practice their hand-eye coordination as they try to reach for, grasp, and manipulate the ball.

Brightly colored soft balls can attract an infant's attention and encourage them to visually track the movement of the ball, which supports the development of their visual tracking skills.


Allow the baby to touch and explore the ball's texture. Encourage them to feel its softness and different surfaces.



Place the baby on their tummy and roll the soft ball gently in front of them. This encourages them to lift their head and observe the movement.
Throw a Puppet Show: Use soft hand puppets or finger puppets to create a little show. This can be entertaining and help with visual tracking. Use puppets to tell simple stories or sing songs, play with them tickle them, use voice modulations. Puppets can help to develop your newborn's imagination and create some fun moments between parent and baby. Puppet shows are engaging for infants, toddlers and infact you will enjoy that too.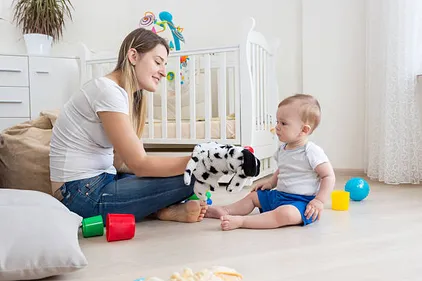 It is time to explore textures: Exploring different textures is a wonderful sensory activity for infants aged 0-6 months. It helps stimulate their senses and encourages cognitive and motor skill development. Provide a variety of fabric scraps with different textures such as silk, cotton, fleece, and velvet. Offer soft toys with different textures, like plush, knitted, or textured fabric. Let your baby hold, squeeze, and explore the surfaces. Provide soft sensory balls with various textures like nubs, bumps, and ridges. Gently roll these across your baby's body while they're on their back.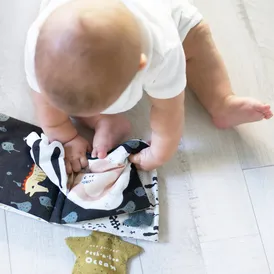 Let Baby play with Teething toys: Holding and manipulating teething toys helps develop fine motor skills. This includes grasping, mouthing, and passing objects from hand to hand. It encourages oral exploration, which is a natural and important part of an infant's sensory development. Wet a washcloth, wring it out, and put it in the freezer for a little while. Allow your baby to touch the cool, textured surface during supervised play.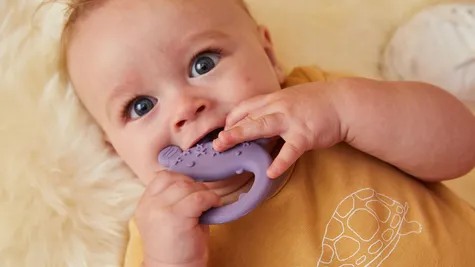 Teething toys can be introduced around 3-6 months of age, as this is typically when many infants start teething. But make sure the teething toy is made from safe, non-toxic materials and that can be easily cleaned and sanitized to maintain good hygiene.
According to the American Academy of Pediatrics, play offers an ideal opportunity for parents to engage fully with their children.Play is essential to development because it contributes to the cognitive, physical, social and emotional well-being.Remember to always prioritize safety and supervise playtime. 
LOVE AND SUPPORT ALWAYS...!!