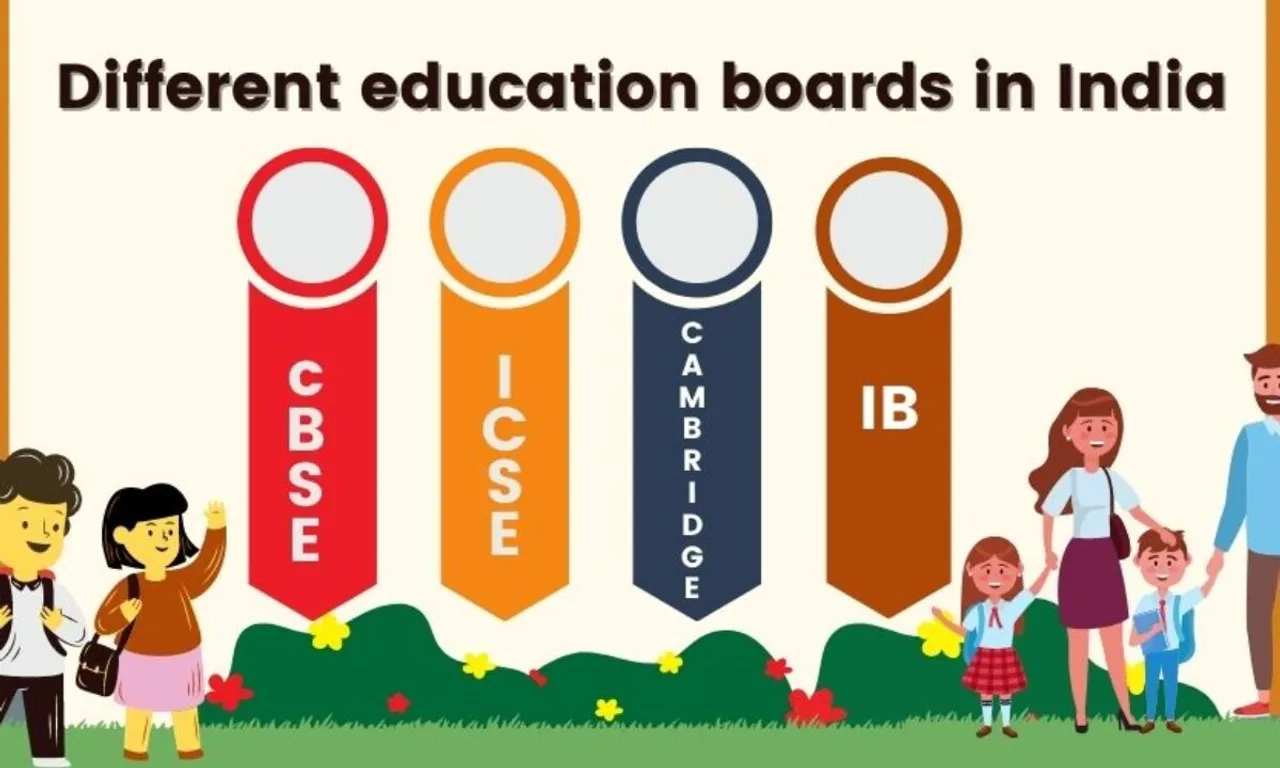 Parenthood encompasses a wide range of responsibilities, roles, and experiences. It involves the process of raising and nurturing children, providing them with love, care, guidance, and support as they grow and develop. Every parent wants the best for their child and providing them best education is one of the greatest responsibilities and roles of being a parent. 
The education and upbringing of a child will determine the future of their family and nation as a whole.
There are many factors, parents consider when it comes to choosing a school for their child. Choosing the education board that is right for the child can help nurture them at a young age and play a pivotal role in their career and personality development.
What are the main Educational Boards availble in India?
In Indian schools, there are various types of boards and ideologies followed. In order to choose the board that is relevant for a child, we must first understand what each board offers and how well their curriculum and teaching methodology align with the life and career goals of the child.
Central Board of Secondary Education (CBSE): CBSE is a national-level board of education in India that follows a centralized curriculum. One of the main advantages of CBSE is that many important exams for higher studies in India are connected to the CBSE syllabus. The emphasis is on core subjects like science, maths, social studies, and languages. The curriculum has a strong theoretical approach aiming for students to gain a sound knowledge of different concepts on core subjects in order to help them attempt professional courses and entrance exams in the streams of science and maths. It is a very good curriculum for students keen on taking up STEM-related careers like medicine or engineering.
Indian Certificate of Secondary Education (ICSE): ICSE is another national-level board of education that offers a comprehensive curriculum with a broader range of subjects compared to CBSE. ICSE schools often emphasize a mix of theoretical knowledge and practical application providing more balanced, wholesome, and holistic education. It aims to create successful learners who enjoy learning and encourages understanding and application of knowledge to real-life experiences. ICSE schools use English as the medium of education and focus on strengthening language skills.
State Boards: Each Indian state has its own respective State Board of Education. These boards develop and regulate the curriculum for schools within their state. State boards often have some level of autonomy in designing the syllabus, although they generally follow a similar structure to CBSE or ICSE boards. The main focus is on regional/local language, history (along with national and world history), and culture of the state. With an in-depth localized approach, the State Board equips students with deep knowledge and understanding of their region besides the country and the world. For students with an interest in pursuing public exams like the Civil Services Examination, Engineering Service Examinations, and National Defence Academy & Naval Academy Examination among others, state boards are the best starting point.
International Baccalaureate (IB): The International Baccalaureate (IB) curriculum is an internationally recognized education program. It is known for its inquiry-based learning, focus on critical thinking and global perspective. The IB curriculum motivates students and helps students develop critical thinking and research skills that are crucial for excelling in college and beyond. It equips them with the knowledge and skills to navigate real-world challenges and propose solutions with an open mind and ingenuity. Research and internships are focal points in the curriculum.
Cambridge International Examinations (CIE): CIE, also known as Cambridge Assessment International Education, is a popular international board offering globally recognized qualifications. Cambridge Board curriculum is designed by the Cambridge Assessment International Education (CAIE) and it is recognized worldwide. The highest number of schools globally are affiliated with the Cambridge Board. The curriculum is created to generate curiosity in students and develop a desire for learning. As IGCSE is among the most widely accepted qualifications across the world it serves as a launching pad for higher and professional studies. The curriculum prioritizes learning languages and cultural studies which creates well-rounded students. This makes for a positive impression when applying for admission to colleges abroad.
How to choose Best Educational Board for your child?
Different boards have their strengths and weaknesses, and success depends on a combination of factors such as personal motivation, individual abilities, opportunities, and supportive environments.
The Central Board of Secondary Education (CBSE) and the Indian Certificate of Secondary Education (ICSE) are two widely recognized boards in India that have produced successful individuals in various fields. These boards have a strong academic foundation, standardized assessments, and a rigorous curriculum.
CBSE is known for its emphasis on core subjects and preparation for competitive exams. Many students from CBSE schools have excelled in engineering, medicine, and administrative services, among other fields. CBSE schools are the easiest board and have a wider reach across the country, making them a popular choice for many families.
ICSE, on the other hand, offers a comprehensive curriculum with a broader range of subjects. It focuses on a balanced education that incorporates both theoretical knowledge and practical application. ICSE students often develop strong communication and analytical skills, which can benefit them in various career paths.
ICSE board is considered one of the toughest boards in India due to its Comprehensive and detailed syllabus.
International Baccalaureate (IB) and Cambridge International Examinations (CIE) are also recognized for their global standards and have produced successful individuals who have pursued higher education abroad or established international careers. IB and CIE emphasize the development of higher-order thinking, including problem-solving and creativity . 
It's important to remember that the board of education is just one aspect of a child's overall educational journey. Other factors such as quality of teaching, resources, parental involvement, and the individual student's efforts play crucial roles in achieving success. Ultimately, the key is to choose a board that aligns with your child's learning style, future goals, and overall well-being.
LOVE AND SUPPORT ALWAYS...!!