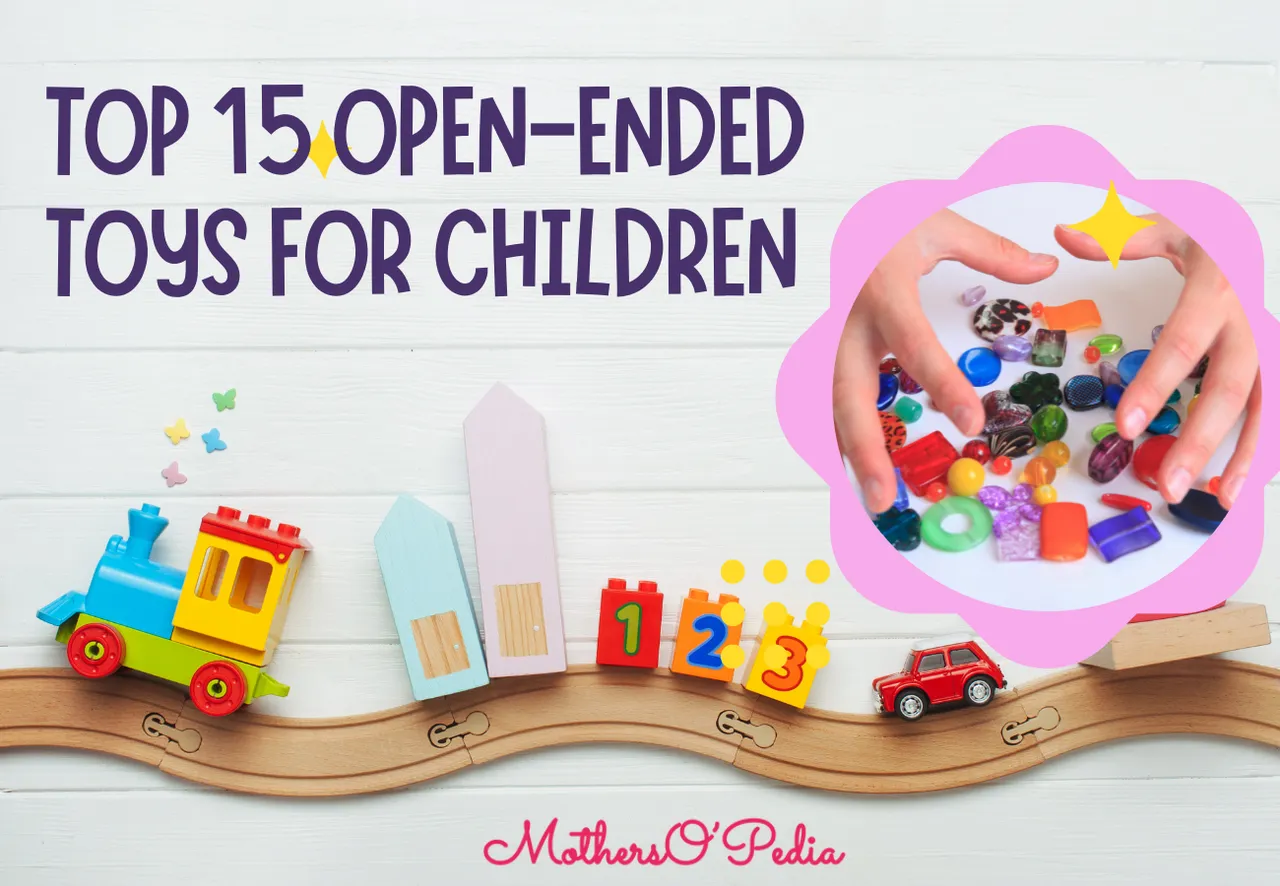 As parents, we are constantly seeking the best ways to nurture our children's development and provide them with engaging and educational experiences. When it comes to playtime, open-ended toys have gained recognition for their ability to foster creativity, imagination, and cognitive skills in toddlers.
What are open-ended toys?
Open-ended toys are toys that have no clear purpose and that can be used in numerous ways. These toys require full engagement from a child in order for play to happen.  Kids can play independently without instructions or guidance by parents.
A child must figure out, on their own, what role the toy will play in their game/play scenario – and there is no wrong way to play with it. The best open-ended toys encourage communication, exploration, creativity, visual discrimination, and problem-solving skills for a wide age range.
Top 15 Open-Ended & Educational Toys for Children
wooden block set
dolls or other figures
play food
toy cars
sensory bin
Creative/Kinetic Sand for Kids: The sensory experience provided by kinetic play sands is truly captivating. As children run their fingers through the sand, they can feel its soft texture and enjoy the satisfying tactile feedback. With kinetic sand, children have the freedom to explore and manipulate the sand in their own unique ways. They can mold it, shape it, squeeze it, cut it, and create different structures or designs.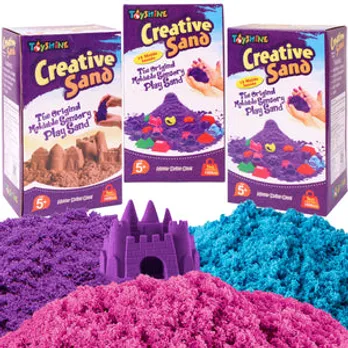 Buy here: Toyshine Kinetic/Creative Sand Play
Magnetic Sticks Building Blocks: Encourage creativity which is the key factor to success in today's ever-changing environments. Fun and entertaining, perfect educational presents for school-age children that will never go out of style.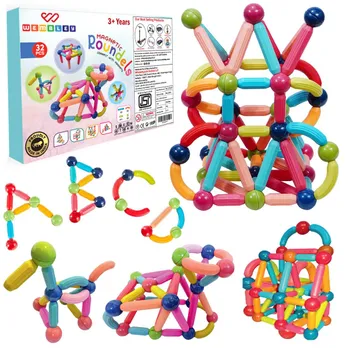 Buy here : Magnetic Sticks Building blocks
Play Silk/ Play scarfs : They are large pieces of lightweight fabric that children can use in a variety of ways during their playtime adventures. Here are some ways play silks/play scarves can be used:
To play peek-a-book.
To create forts or little blankets for their stuffed animals.
Use play silks as an eco-friendly way to wrap presents.
To Dress-Up and Pretend Play like some superhero.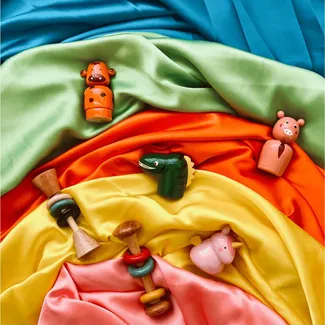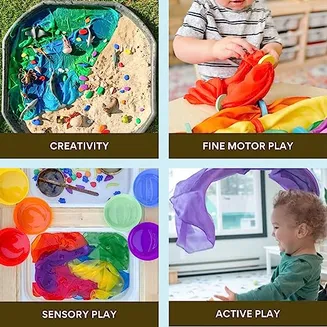 Buy here: Play Silk/ Play scarfs
Play Set With Peg Dolls, Colorful Pebbles:
An open-ended 24 Pieces Play Set with Peg Dolls that is perfect for your child to free play with! his set with wooden peg dolls is just right for toddlers and preschoolers who are enthusiastic explorers of the world around them. They can use it to create their own universes, tell exciting stories, and express their imagination in endless ways each day!
Buy here : Doll pegs and Pebble set
Animal Figurines
Young children enjoy reading books about and learning facts about animals.The personality attributes of wild animals are often left up to a child's imagination, though.Children can use animal figurines to create their own imaginative scenarios and storylines.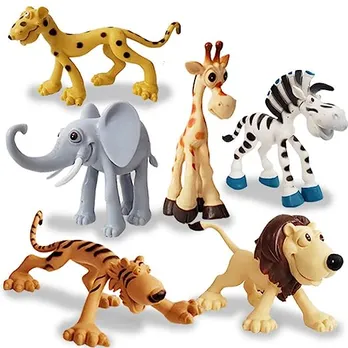 Rainbow Wooden Stacking Toy: These rainbow blocks can enhance kids' color perception as well as teach them counting and stacking. By building different shapes, it can help children expand imagination. The open-ended nature of rainbow stacking toys means that there are no specific rules or limitations to how they can be used. Children can explore and create in their own unique ways, allowing for open-ended play and imaginative possibilities.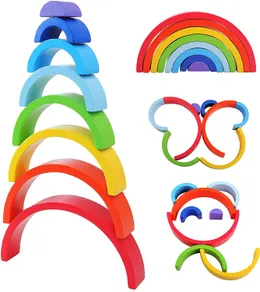 Stretchable Pipes: The pop tubes sensory toys 12 pack can be stretched, constructed, spliced, and bent at will to create new toys, thus enriching children's imagination and creativity and enhancing their fingers and hands-on ability.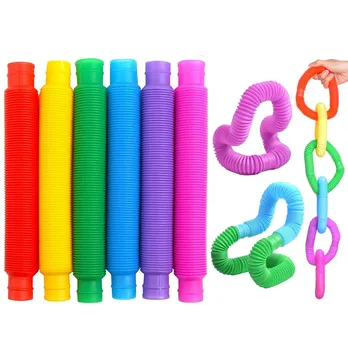 Magnetic tiles:  A must-have open-ended toy for your child. They lend themselves well to imaginary play with peg dolls and animal figurines.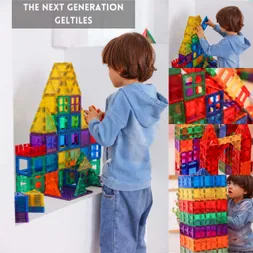 A balance board: 
A balance board is not only great for a child's physical development, but it's also a great toy for imaginative play. This piece of curved wood can be used by children as young as 1-year-old in a variety of ways. Coming up with different games to play around the board and using it as a pretend play prop will stimulate your child's creativity and imagination.
Link to buy Shumee's balance board
Pipe Cleaners and Straws: The open-ended nature of pipe cleaners and straws allows children to explore and create in their own unique ways. These versatile materials provide opportunities for imaginative play, fine motor skills development, creativity, and problem-solving skills in children.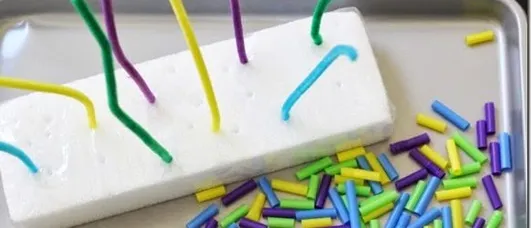 Play food sets/Kitchen sets: The playset provides the perfect opportunity for independent, pretend play and inspires children to explore their creativity and imagination.
The Skillmatics Bento Box is designed to ignite creativity and culinary imagination in young children. It fosters the development of important skills such as creative thinking, social interaction, communication, and fine motor skills, all while having fun.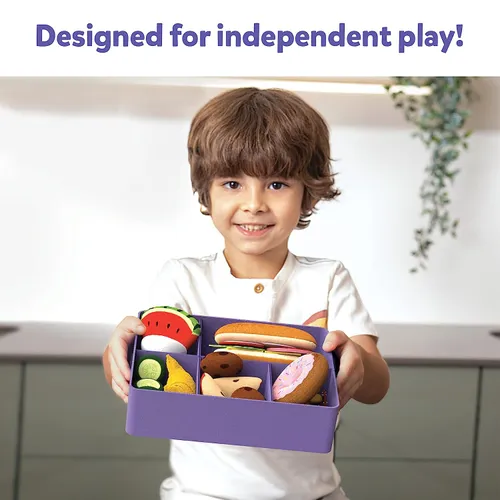 RAINBOW PASTA SENSORY KIT: Coloured pasta in shades of a rainbow makes it appealing for children to engage in all forms of structure and pretend to play with it.  It fulfills the child's need to touch, hear, see, and explore while learning a lot of fun things using it. Children can sort, build, lace, create and manipulate pasta in their own imaginative ways.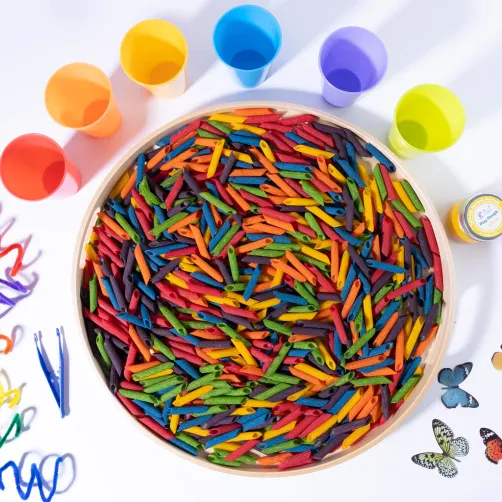 Buy here : A Rainbow pasta sensory kit
Play Dough or Clay: Play dough and clay allow children to mold, shape, and create using their hands. It promotes sensory exploration, fine motor skills, and imaginative play.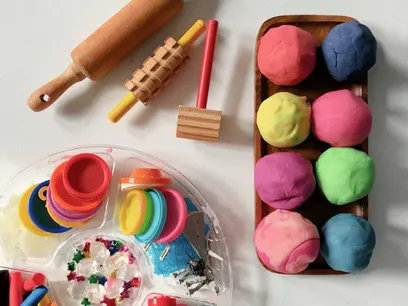 Buy nontoxic Playdough for kids: Eduspark
Recommended Reading: How to Make Child-safe Play Dough/Clay at Home?
Sensory Bins & Sensory Table: Sensory bins filled with materials like rice, water, sand, or dried beans provide a sensory-rich experience. Children can explore textures, pour, scoop, and experiment with different objects, stimulating their senses and creativity.  If you can invest more, try a sensory table with two bins, that can be used as a regular table too, and is made of wood for longer usage.
Things You can do with your sensory table include-
Sink vs float.
Scooping toys
shape sorting etc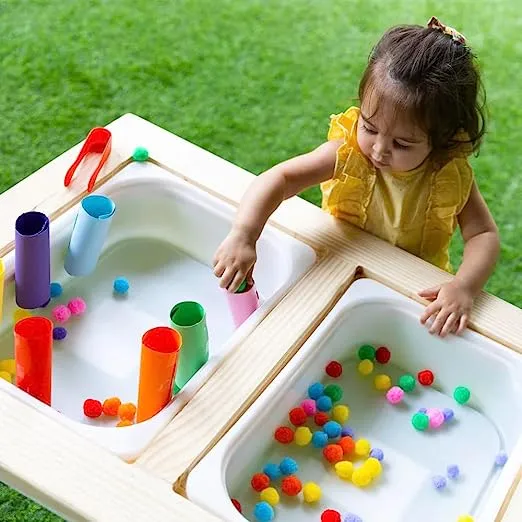 Buy here: Curious Cubs sensory table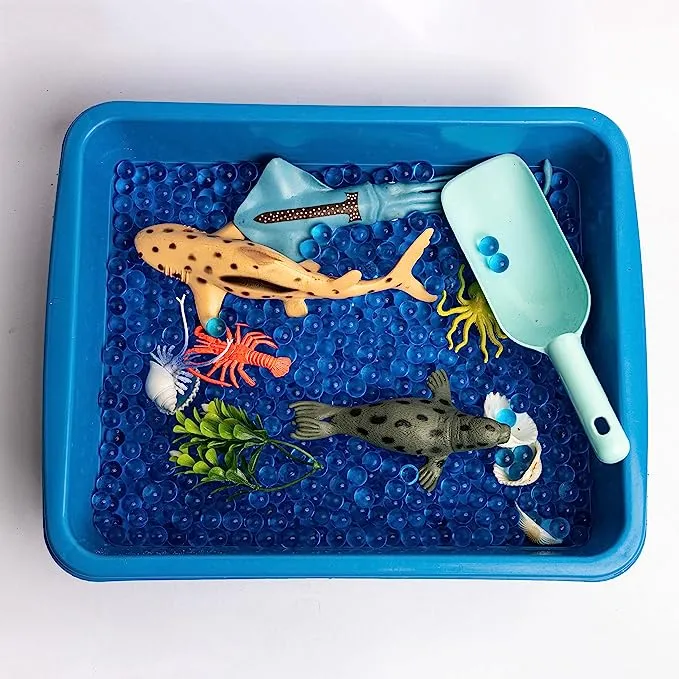 Lego sets and Building  Blocks: You will not be amazed to see this name in our top 15 open-ended toys list. Block and LEGO are both classic examples of open-ended toys, which means they are designed to encourage imaginative play and creativity by allowing children to use them in various ways without predetermined outcomes.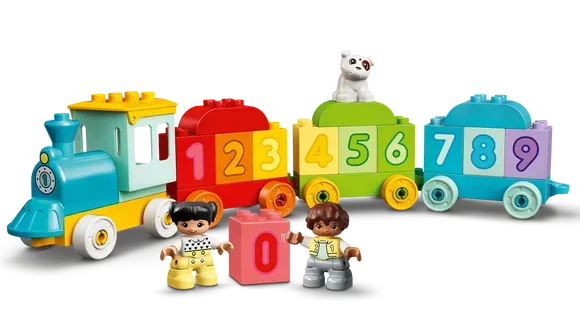 Advice for parents
A good toy does not have to be trendy or expensive.
The best toys are those that support warm, verbally rich interactions and quality time for the parent or caregiver and the child.
Choose toys that will grow with the child, encourage exploration and problem-solving, and spark the child's imagination, such as puppets and blocks.
Never leave your child unsupervised. Although all above mention toys are made up of non-toxic material, it should not be swallowed.
LOVE AND SUPPORT ALWAYS...!!
Recommended Reading: Unlocking Creativity: The Open-Ended Toys for Toddlers
Recommended Reading: Best Open-ended Toys for Kids